Vintage Treasures: Dervish Daughter by Sheri S. Tepper
Vintage Treasures: Dervish Daughter by Sheri S. Tepper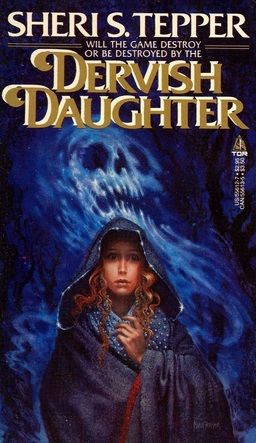 I need to read more Sheri S. Tepper.
I tend to think of her primarily as a science fiction writer, probably because I first encountered her with her groundbreaking The Gate to Women's Country (1988) and the major SF novel that followed, Grass (1989), a Hugo and Locus Awards nominee. But she wrote a great deal of highly acclaimed fantasy in the 80s and 90s, and it's high time I acquainted myself with it.
A few weeks back, I purchased a set of four Tepper fantasy novels on eBay, all originally published in 1985-86 (and they look great, too — just look). Last night, I grabbed one to bring with me on a business trip. I chose Dervish Daughter because it had a floating ghost skull on the cover and this criterion has rarely steered me wrong in the past.
So now I'm sitting on the 24th floor of Caesar's Palace in Las Vegas, with what I just discovered is the second volume in the Jinian trilogy, itself the third series in a trilogy of trilogies called The True Game. Not that the Tor paperback bothered to tell me this. In fact, Tor doesn't tell me much about the book at all. There's not much of a plot description on the back, just this kooky poem.
Egg in the hollow — Hatching to follow
Lovers come calling — Bitter tears falling
Bright the sun burning — Night will come turning
New powers arise in the Land… Players beware!
I'm guessing free verse on the back of paperbacks was a short-lived marketing trend in the mid-80s. Anyway, I'm a little frustrated — as I imagine casual paperback buyers in 1986 were frustrated, when they discovered this is the second (eighth?) novel in a series. Over the last few decades, Tor has gotten better at letting buyers know books are part of a series. (They aren't big on marketing through poetry anymore, either.)
We've also covered the following Sheri S. Tepper fantasy novels:
The Song of Mavin Manyshaped
King's Blood Four
Dervish Daughter
Marianne, The Magus, and the Manticore
Dervish Daughter was published in March 1986 by Tor Books. It is 218 pages in paperback, priced at $2.95. The cover is by James Christensen. I bought my copy as part of a 4-volume set for $16 (including shipping). It was reprinted in an omnibus edition titled The End of the Game by the Science Fiction Book Club in January 1987, with the other two books in the Jinian sequence: Jinian Footseer (1985) and Jinian Star-Eye (1986). It has not been reprinted since and there is no digital edition.
See our other recent Vintage Treasures here.