Vintage Treasures: The Song of Mavin Manyshaped by Sheri S. Tepper
Vintage Treasures: The Song of Mavin Manyshaped by Sheri S. Tepper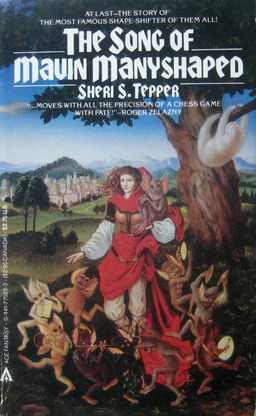 I think I'm finally starting to figure out Sheri Tepper's 9-volume magnum opus The True Game (believe me, it took some work.)
I accidentally started (as usual) in the middle, with Dervish Daughter, which I didn't even realize was part of a series, much less the eighth frickin' volume. However, I overcame this as, after many decades of reading fantasy, I have mad reader skillz. Dervish Daughter isn't really the eighth volume anyway, it's actually the middle volume of the last trilogy, known as The Books of the True Game: Jinian.
The first trilogy, The Books of the True Game: Mavin Manyshaped, was written second, after the middle trilogy, which was composed of King's Blood Four, Necromancer Nine, and Wizard's Eleven, which were collectively gathered in a one-volume edition as The True Game. Which isn't at all confusing. Still with me?
Forget it, I'm lost again. Let's start over. The Song of Mavin Manyshaped is the first book in the first trilogy of The True Game. Mavin is a shapeshifter, and this opening trilogy tells the story from her point of view.
It is never easy growing up as a shape-shifter, learning to control the wild Talent for changing into any shape at all — a winged dragon, a pillar of stone, another human being, a creature from a nightmare. But for Mavin Manyshaped — one of only two she-shifters in her tribe, and recklessly headstrong by nature — coming of age is both exhilarating and terrifying. Little does she know she is destined to become the most notorious shape-shifter in all the lands of the True Game.
I bought The Song of Mavin Manyshaped as part of a jaunty collection of seven Sheri S. Tepper paperbacks on eBay for $10.50. They're not all part of The True Game… I think. Anything is possible.
We've previously covered the following Sheri S. Tepper fantasy novels:
The Song of Mavin Manyshaped
King's Blood Four
Dervish Daughter
Marianne, The Magus, and the Manticore
The Song of Mavin Manyshaped was published by Ace Books in March 1985. It is 183 pages, originally priced at $2.75. The cover art is by Kinyoko Craft. It has never been reprinted in the US (there was an omnibus volume from Corgi in the UK, in 1986) and there is no digital edition.
See all of our recent Vintage Treasures here.