Scott Taylor's A Knight in the Silk Purse Now Available
Scott Taylor's A Knight in the Silk Purse Now Available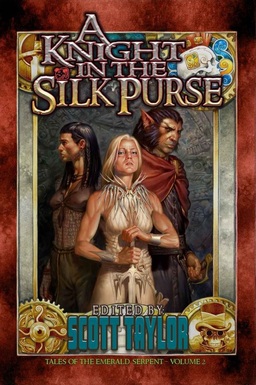 Scott Taylor's latest anthology, A Knight in the Silk Purse, the sequel to his blockbuster, Tales of the Emerald Serpent, is now available.
If you're a regular Black Gate reader, you're familiar with Scott's popular Art of the Genre column. But Scott is more than just a blogger and writer — he's also an accomplished editor and publisher, with seven successful Kickstarter publishing projects under his belt. Inspired by classic shared world anthologies like Thieves World, Scott created the Free City of Taux, a sprawling fantasy port of "cursed stones, dark plots, and rich characters who share space inside the infamous Black Gate District," and invited some of the genre's most popular writers to tell its stories — including Lynn Flewelling, Juliet McKenna, Martha Wells, Julie Czerneda, Harry Connolly, and many others.
The result was Tales of the Emerald Serpent, one of the most acclaimed anthologies from last year. Lou Anders, editorial director at Pyr Books, said "I'm very impressed… it's a smart, good looking package with some real gems of fiction inside."
As we reported last year, Scott launched another successful Kickstarter to fund a sequel and A Knight in the Silk Purse was born — featuring virtually all of the writers from TotES, plus Dave Gross, Elaine Cunningham, Dan Wells, and Howard Tayler. Fans have been anxiously awaiting the arrival of the second volume and now the wait is over.
Here's the book description.
In Taux, the city of cursed stone, a new dark power stalks the dreams of the population with bloody footprints. Even among the celebrations of the Festival of a Thousand Blossoms, the hardy folk of the Black Gate must find a way to defeat this lurking menace before it consumes them all. A Knight in the Silk Purse blends the shared tales of twelve of fantasy's greatest modern storytellers into an epic weave of intrigue, murder, sorcery, death, and retribution like nothing else found on the shelves today.
At 322 pages, A Knight in the Silk Purse is more than 100 pages longer than the first volume.
Tales of the Emerald Serpent, Book 2: A Knight in the Silk Purse: Ghosts of Taux was edited by Scott Taylor and published by Art of the Genre on July 4, 2014. It is 322 pages, priced at $14.99 in trade paperback and $9.99 for the Kindle version. The gorgeous cover is by Todd Lockwood.
You can order copies from Amazon.com — or start at the beginning with Tales of the Emerald Serpent, available for the Kindle for just $4.99.