SF Signal Interviews Scott Taylor on A Knight In The Silk Purse
SF Signal Interviews Scott Taylor on A Knight In The Silk Purse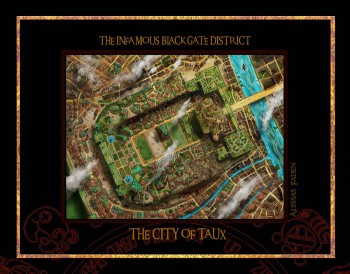 SF Signal interviews editor and Black Gate blogger Scott Taylor on the occasion of his sixth Kickstarter project: A Knight in the Silk Purse, the follow-up to his enormously successful shared world anthology, Tales Of The Emerald Serpent.
Nick Sharps: What lesson did you learn from the first anthologies campaign that has carried on to Volume II? Are there plans for future anthologies?

ST: Well, we learned that selling fiction is hard, and selling a anthology is even harder. Still, we were happy to get the backing for our first endeavor, and we knew that if we could just produce that work, people would get what we were doing and that would carry over to further volumes. So far, we've been right, and this new Kickstarter has built-in stretch goals that could see to the production of up to six full volumes of this series that would take us to the culmination of the story we all set out to tell.
A Knight In The Silk Purse returns to the Free City of Taux, a fantasy port of cursed stones, dark plots, and a cast of characters who have made a name for themselves in the infamous Black Gate District. It is edited by R. Scott Taylor and includes contributions from Martha Wells, Julie Czerneda, Elaine Cunningham, Todd Lockwood, Lynn Flewelling, Dave Gross, Juliet McKenna, and others. With 23 days to go, it is already more than halfway to its target goal of $10,000 (with stretch goals that go all the way up to $300,000).
Read more about the launch of Tales Of The Emerald Serpent here and read the complete interview with Scott here. You can also read his recent article The Joy and Pain of Kickstarter [and How Backed Projects Still Fail].
You can pledge to support A Knight In The Silk Purse at Kickstarter here.