New Treasures: Shield and Crocus by Michael R. Underwood
New Treasures: Shield and Crocus by Michael R. Underwood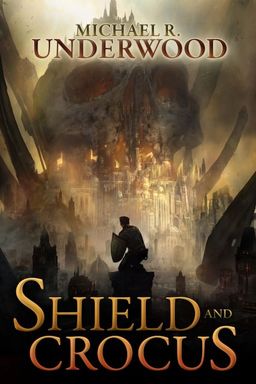 I used to tell folks submitting to Black Gate that the easiest way to grab my attention was with a unique setting. Writers — especially beginning writers — make greats efforts to impress with prose and plot, but very few seem to have the ability to imagine some place other than Middle Earth or a tavern in a D&D game.
It's the same when I'm choosing a new novel. It's the ones with the most imaginative settings that really win me over. And Michael R. Underwood's Shield and Crocus — set in a city built on the bones of a fallen giant, ruled by five criminal tyrants — has by far the most intriguing setting I've come across this year.
The city of Audec-Hal sits among the bones of a Titan. For decades it has suffered under the dominance of five tyrants, all with their own agendas. Their infighting is nothing, though, compared to the mysterious "Spark-storms" that alternate between razing the land and bestowing the citizens with wild, unpredictable abilities. It was one of these storms that gave First Sentinel, leader of the revolutionaries known as the Shields of Audec-Hal, power to control the emotional connections between people — a power that cost him the love of his life.

Now, with nothing left to lose, First Sentinel and the Shields are the only resistance against the city's overlords as they strive to free themselves from the clutches of evil. The only thing they have going for them is that the crime lords are fighting each other as well — that is, until the tyrants agree to a summit that will permanently divide the city and cement their rule of Audec-Hal.

It's one thing to take a stand against oppression, but with the odds stacked against the Shields, it's another thing to actually triumph.

In this stunning, original tale of magic and revolution, Michael R. Underwood creates a cityscape that rivals Ambergris and New Crobuzon in its depth and populates it with heroes and villains that will stay with you forever.
Michael R. Underwood is the author of Geekomancy and Celebromancy. I was much impressed with his reading at Wiscon 2012. He was also the North American Sales Manager for Angry Robot Books (in which capacity he's sold me a book or two.)
Shield and Crocus was published by 47North on June 10, 2014. It is 416 pages, priced at $14.95 in trade paperback and just $4.99 for the digital edition.