Future Treasures: The Last Witness by K. J. Parker
Future Treasures: The Last Witness by K. J. Parker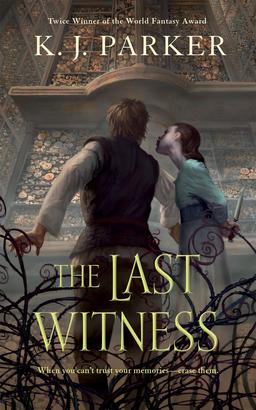 Bestselling fantasy author K.J. Parker, author of The Scavenger trilogy and The Engineer trilogy, disclosed that he's actually famed British novelist Tom Holt on the Coode Street Podcast on April 22. It was a revelation that stunned many (me included), as over the last 17 years Holt has continued his prolific output under his own name, while simultaneously writing over a dozen novels as K.J. Parker. That's an impressive accomplishment. Parker's latest release is the fifth book in Tor.com's new line of premium novellas. The Last Witness is a classic Parker tale, with a strong supporting cast of princes, courtiers, merchants, academics, and generally unsavory people.
When you need a memory to be wiped, call me.

Transferring unwanted memories to my own mind is the only form of magic I've ever mastered. But now, I'm holding so many memories I'm not always sure which ones are actually mine, any more. Some of them are sensitive; all of them are private. And there are those who are willing to kill to access the secrets I'm trying to bury…
Check out all ten Tor.com fall novellas (including sample chapters!) here.
See the complete list of Tor.com novellas we've covered so far below.
The Sorcerer of the Wildeeps by Kai Ashante Wilson
Witches of Lychford by Paul Cornell
Sunset Mantle by Alter S. Reiss
Binti by Nnedi Okorafor
The Last Witness by K. J. Parker
Of Sorrow and Such by Angela Slatter
Envy of Angels by Matt Wallace
The Builders by Daniel Polansky
Domnall and the Borrowed Child by Sylvia Spruck Wrigley
The Shootout Solution by Michael R. Underwood
The Drowning Eyes by Emily Foster
The Ballad of Black Tom by Victor LaValle
Check out the first ten Tor.com novellas (with sample chapters!) here, and see the complete line-up here.
The Last Witness will be published by Tor.com on October 6, 2015. It is 144 pages, priced at $12.99 in trade paperback and $2.99 for the digital edition. The cover is by Jon Foster.
See all of our recent New Treasures here.