Coode Street Podcast Reveals that K.J. Parker is Tom Holt
Coode Street Podcast Reveals that K.J. Parker is Tom Holt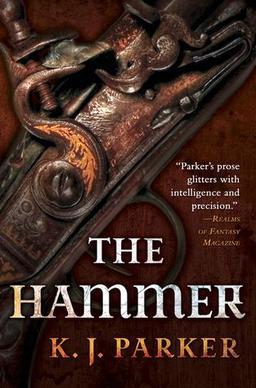 Best selling fantasy author K.J. Parker appeared on the scene 17 years ago, when he published Colours in the Steel (1998), the first novel in The Fencer trilogy.
Since then he's had a stellar career, producing The Scavenger trilogy and the popular The Engineer trilogy (Devices and Desires, Evil for Evil, and The Escapement), plus standalone novels such as The Company (2008), The Folding Knife (2010), and The Hammer (2011).
But Parker has never appeared in public, or even spoken on the phone — not even to accept the two World Fantasy Awards he's won. It soon became public knowledge that the name was a pseudonym. But despite intense curiosity and conjecture, the identity behind the name remained a closely guarded secret, until Parker decided to reveal it to his long-time editor Jonathan Strahan and his partner Gary K. Wolfe yesterday, on their Coode Street Podcast.
K.J. Parker is actually humorous fantasy writer Tom Holt, whose popular novels include Expecting Someone Taller (1987), Who's Afraid of Beowulf? (1988), Ye Gods! (1992), Blonde Bombshell (2010), and more than two dozen others.
Over the last 17 years Holt has continued his prolific output under his own name, while simultaneously writing over a dozen novels as K.J. Parker.
Listen to the complete interview here.