Future Treasures: The Drowning Eyes by Emily Foster
Future Treasures: The Drowning Eyes by Emily Foster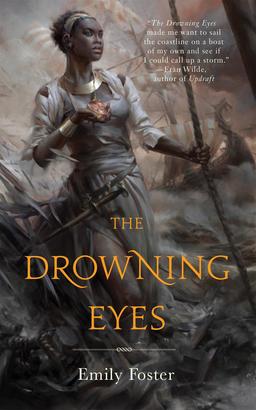 Tor.com's new lines of novellas was one of the biggest publishing stories of last year. Launched in September 2015 with Kai Ashante Wilson's highly-regarded The Sorcerer of the Wildeeps, Tor.com released a novella every week for ten weeks, including titles by Paul Cornell, Nnedi Okorafor, and K. J. Parker.
With the arrival of the new year, Tor.com kicks off another ambitious publishing round with The Drowning Eyes, the debut release from Emily Foster, a "magic- and wind-filled adventure, peopled with excellent and strong characters" (Fran Wilde) in which apprentice Windspeaker Shina must return her people's power to them before the Dragon Ships destroy everything.
When the Dragon Ships began to tear through the trade lanes and ravage coastal towns, the hopes of the arichipelago turned to the Windspeakers on Tash. The solemn weather-shapers with their eyes of stone can steal the breeze from raiders' sails and save the islands from their wrath. But the Windspeakers' magic has been stolen, and only their young apprentice Shina can bring their power back and save her people.

Tazir has seen more than her share of storms and pirates in her many years as captain, and she's not much interested in getting involved in the affairs of Windspeakers and Dragon Ships. Shina's caught her eye, but that might not be enough to convince the grizzled sailor to risk her ship, her crew, and her neck.
See the complete list of Tor.com novellas we've covered so far below.
The Sorcerer of the Wildeeps by Kai Ashante Wilson
Witches of Lychford by Paul Cornell
Sunset Mantle by Alter S. Reiss
Binti by Nnedi Okorafor
The Last Witness by K. J. Parker
Of Sorrow and Such by Angela Slatter
Envy of Angels by Matt Wallace
The Builders by Daniel Polansky
Domnall and the Borrowed Child by Sylvia Spruck Wrigley
The Shootout Solution by Michael R. Underwood
The Drowning Eyes by Emily Foster
The Ballad of Black Tom by Victor LaValle
Check out the first ten Tor.com novellas (with sample chapters!) here, and see the complete line-up here.
The Drowning Eyes will be published by Tor.com on January 12, 2016. It is 144 pages, priced at $12.99 in trade paperback and $2.99 for the digital edition. The cover is by Cynthia Sheppard.
See all of our coverage of the best in upcoming fantasy here.