538 Blog Reports Crowdfunding Is Driving A $196 Million Board Game Renaissance
538 Blog Reports Crowdfunding Is Driving A $196 Million Board Game Renaissance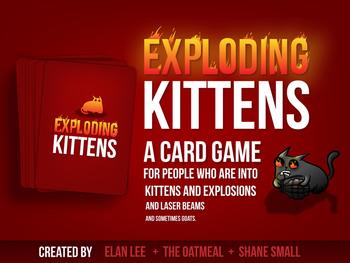 Nate Silver's popular 538 blog, known mostly for astute political analysis, often takes a hard look at other industries, and yesterday Oliver Roeder examined the recent explosive growth in crowdfunding for board games. His examples include Conan (which we covered here,) Reaper Miniatures, Dwarven Forge, and the break-out hit Exploding Kittens, which exceeded its campaign goal in eight minutes and set a record for most backers in Kickstarter history, raising $8,782,571 from 219,382 backers.
Luke Crane is Kickstarter's in-house board game expert and resident dungeon master. He sees Kickstarter as the latest in a series of board and card gaming milestones. Dungeons & Dragons, first published in 1974, crystallized role-play gaming. Magic: The Gathering, which debuted in 1993 and became a smash hit, spawned countless expansions and still boasts a competitive professional circuit. The Settlers of Catan, and its first English-language edition in 1996, gave many their first taste of German board gaming kultur. That game has sold over 15 million copies.

And then, in mid-2009, Kickstarter launched.

Since that debut, pledges to board and card game projects on the site have totaled $196 million, according to the company. Ninety-three percent of that money went to successful projects — those that reached their fundraising goal. For comparison, pledges to video game projects, including hardware and mobile games, have totaled $179 million. Of that, 85 percent went to ultimately successful projects. On Kickstarter, analog is beating digital.
Read the complete article here.