Monolith's Conan Board Game Raises Over $2 Million on Kickstarter
Monolith's Conan Board Game Raises Over $2 Million on Kickstarter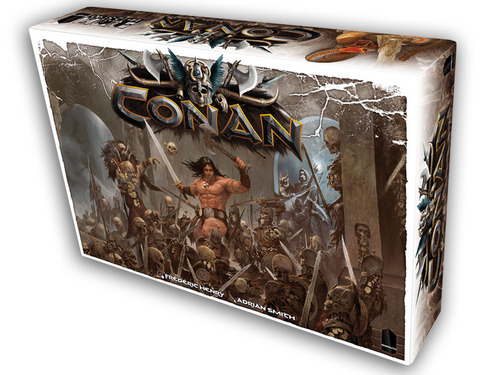 Earlier today the Kickstarter campaign for a new Conan miniatures game from start-up Monolith Board Games surpassed $2 million — more than 25 times the $80,000 goal. Monolith has no track record, but they've done a fine job generating excitement. Game components  — including double-sided boards and over 70 plastic miniatures — look excellent, and the art, chiefly by Adrian Smith, is terrific. Here's the description of the core game:
Conan is a miniature-based board game that pits one player, the overlord, who controls hordes of savage tribesmen, no-good lowlifes and undead minions against 1 to 4 players who incarnate the legendary Conan and his fellow adventurers. The gameplay is asymetric, as the overlord possesses a large selection of models and objectives which are his own, whereas the brave heroes are played from a first person perspective, much like in a role playing game. An adventure can be played out in 1 hour on one of the beautiful game boards as you pit your wits, daring and tactical acumen against your opponent.
Who the heck is Monolith, and why should you be giving them your hard earned money?
Here's a brief backgrounder buried at the bottom of the Kickstarter page:
Monolith was created so that we could make the game of our dreams: Conan. HeroQuest was a big part of our gaming culture as kids and we wanted to recreate the joy and immersion we felt for that game back then. So as to stay as true to Robert E. Howard as possible, we hired Patrice Louinet as a consultant, a world renowned expert on this author's works. This gives us a degree of authenticity that is almost unheard of in a product like this. Patrice has approved all the contents of the Barbarian and King box sets as well as most of the stretch goals… we have always kept the spirit of Howard's work in mind and worked under the strict supervision of Paradox Entertainment, owners of the Conan property.
Anyone who gives a shout-out to the excellent HeroQuest is okay in my book. The game includes miniatures for Conan and many other characters created by Robert E. Howard, including Belit, Queen of the Black Coast, and her right-hand man N'Gora, the sorcerer Hadrathus, Shevatas, King of thieves, Zelata the witch, Valeria the swordswoman, and others.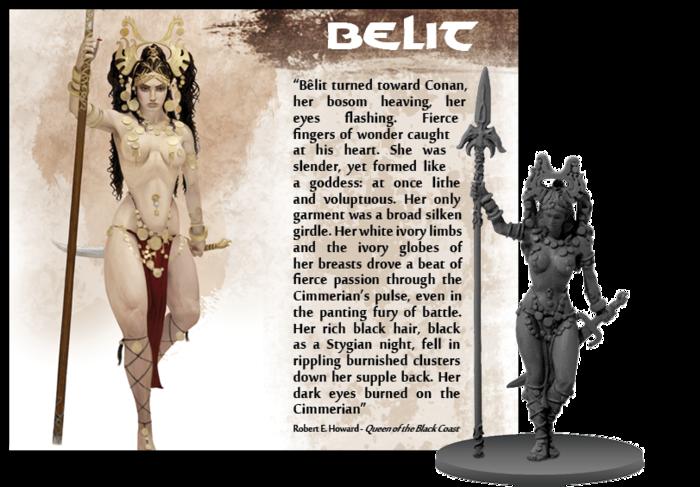 Conan hasn't translated very successfully to board game format in the past. Fantasy Flight's Age of Conan from 2009, a tie-in with the massively multiplayer online RPG released the same year, is the most ambitious attempt to date, but it was a poor seller and I picked up a couple of copies at deep discounts from resellers a few years ago. Steve Jackson's Munchkin Conan (2012) is the only other board game version I'm aware of.
Conan is designed by Fred Henry, with artwork by Adrian Smith, Brom, Paolo Parente, Kekai Kotaki, Xavier Collette, Naiade, Georges Cl4renko, Alex Tornberg, Per Ø. Haagensen, and Fang Wangli. It has several optional expansions.
The minimum pledge is a whopping $90, which gets you the complete game and all the stretch goals. There are less than three days left in the Kickstarter campaign, and many of the promised expansions and miniatures are Kickstarter exclusives. If you're interested, read more and sign up to pledge here.