New Treasures: Professor Challenger: New Worlds, Lost Places, edited by J.R. Campbell and Charles Prepolec
New Treasures: Professor Challenger: New Worlds, Lost Places, edited by J.R. Campbell and Charles Prepolec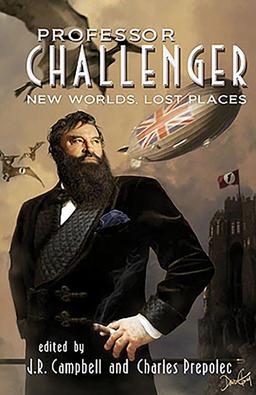 Professor Challenger is one of the great explorer-heroes of the genre. Created by Arthur Conan Doyle in his 1912 novel The Lost World, Challenger also appeared in The Poison Belt and The Land of Mist, and a pair of short stories. Now editors J.R. Campbell and Charles Prepolec have assembled a brand new collection of exciting tales featuring the irrepressible Professor Challenger, with contributions from Mark Morris, Stephen Volk, Guy Adams and James Goss, Black Gate blogger Josh Reynolds, and many others.
Brilliant, belligerent and bearded in equal measure, incapable of suffering fools, or journalists, gladly, the greatest scientific mind of his generation — Sir Arthur Conan Doyle's Professor George Edward Challenger — returns in ten all-new tales of scientific adventure and wonder. He is the discoverer of The Lost World, the prophet of The Poison Belt, the destroyer of The Disintegration Machine, and the man who made the World Scream! Who can deliver mankind from the shackles of ignorance? Who else but that great self-proclaimed champion of science? We give you, ladies and gentlemen, children of all ages, the one, the only, Professor George Edward Challenger!

This original anthology, from the authors and editors who brought you the Gaslight Sherlock Holmes series, sees Challenger and his stalwart company including the reporter Malone, big game hunter Lord John Roxton and the skeptical colleague Professor Summerlee, travel across space and witness the ravages of time, narrowly eluding a dinosaur's bite only to battle against the invasive red bloom of alien foliage, then plunge deep into the mysteries hidden within the Earth and reach out to the moon and into the heart of the unknown. Strap yourself in for chills, thrills and challenges to the unknown in exciting new worlds and lost places with literature's foremost scientific adventurer.
Professor Challenger: New Worlds, Lost Places was edited by J.R. Campbell and Charles Prepolec and published by EDGE Science Fiction and Fantasy Publishing on August 15, 2015. It is 250 pages, priced at $15.95 in trade paperback, and $5.99 for the digital edition. The cover is by Dave Elsey.