Barnes and Noble Picks the Best SF and Fantasy of 2015
Barnes and Noble Picks the Best SF and Fantasy of 2015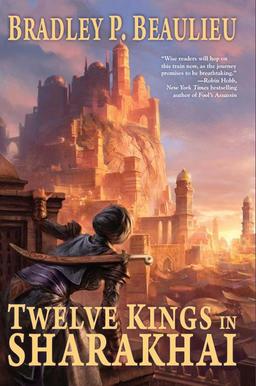 The closer we get to the end of the year, the more Best of the Year lists start popping up. Some are more reliable than others, however.
I've had good luck with Barnes & Noble's lists, which have steered me towards some excellent fiction in years past. This year their Best Science-Fiction & Fantasy of 2015 is authored by Joel Cunningham, and it includes the acclaimed first volume in Bradley P. Beaulieu's ambitious new fantasy series, Twelve Kings in Sharakhai.
Beaulieu launches his second epic fantasy trilogy (following The Lays of Anuskaya) with the story of 19-year-old Çeda, a gladiator in the fighting pits of Sharakhai, a desert kingdom ruled over by 12 immortal lords who live in luxury while their subjects must scrape to survive. Determined to avenge her mother, who was executed by the Twelve Kings, Çeda schemes and searches for a way to upset their ironclad rule — and comes to uncover hidden truths about the source of their power, and her own destiny, that could upset the balance of the entire world. Beaulieu's intricate world-building and complex characters are quickly becoming the hallmarks of his writing, and if this opening volume is any indication, The Song of the Shattered Sands will be one of the next great fantasy epics. Read our review.
The list also includes Radiance by Catherynne M. Valente, The Cinder Spires: The Aeronaut's Windlass by Jim Butcher, Karen Memory by Elizabeth Bear, Sorcerer of the Wildeeps, by Kai Ashante Wilson, Dark Orbit by Carolyn Ives Gilman, Half-Resurrection Blues by Daniel José Older, and many others.
See the complete list here.