Vintage Treasures: The Etched City by K.J. Bishop
Vintage Treasures: The Etched City by K.J. Bishop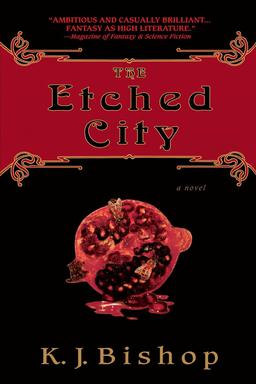 The Etched City, the debut novel by Australian writer K. J. Bishop, was published in a small print run by Prime Books in 2003. It rapidly accumulated a lot of attention — not to mention stellar reviews — and was nominated for both the World Fantasy Award and the British Fantasy Award. Publishers Weekly said it combines "equal parts of Stephen King's Dark Tower series and China Mille's Perdido Street Station," and James Sallis, in The Magazine of Fantasy & Science Fiction, called it:
An ambitious and casually brilliant debut, erudite, lavishly written… Though it borrows from both, this is neither heroic fantasy nor romance-fantasy chockfull of magic swords, witches, and wizards unaware. It's fantasy as high literature, our world skewed to a hard right angle…
Here's the book description:
Gwynn and Raule are rebels on the run, with little in common except being on the losing side of a hard-fought war. Gwynn is a gunslinger from the north, a loner, a survivor… a killer. Raule is a wandering surgeon, a healer who still believes in just — and lost — causes. Bound by a desire to escape the ghosts of the past, together they flee to the teeming city of Ashamoil, where Raule plies her trade among the desperate and destitute, and Gwynn becomes bodyguard and assassin for the household of a corrupt magnate. There, in the saving and taking of lives, they find themselves immersed in a world where art infects life, dream and waking fuse, and splendid and frightening miracles begin to bloom…
The Etched City was first published by Prime Books in 2003, and reprinted by Bantam Spectra in December 2004. It is 382 pages, priced at $14 in trade paperback. The cover is by Paul Youll. It is still in print, and there is also an $11.99 digital edition.