New Treasures: Twelve Kings in Sharakhai by Bradley P. Beaulieu
New Treasures: Twelve Kings in Sharakhai by Bradley P. Beaulieu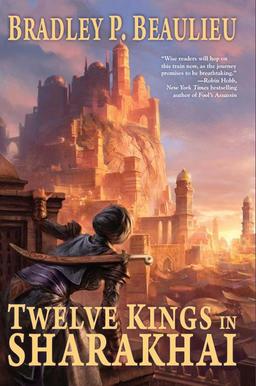 Bradley P. Beaulieu's Twelve Kings in Sharakhai is shaping up to be one of the major fantasy releases of the year. Our very own Howard Andrew Jones says it's "Crammed with intrigue, suspense, and stunning action," and Glen Cooks says, ""I am impressed…. An exceedingly inventive story in a lushly realized dark setting." Over at SF Signal, Paul Weimer does a splendid job of explaining just how compelling and new Beaulieu's worldbuilding is in this opening novel of an ambitious new fantasy series.
The worldbuilding is complicated, rich, and endlessly fascinating. This is fantasy that goes far beyond the Great Wall of European Medieval fantasy, to a secondary world which takes its cues from the trading cities of the Taklamakan Desert, the deserts of Middle East, and places in between. The city is a wonder of a trading capital, a rich tapestry of people and their stories. I felt like I trod the dusty streets beneath the watch of the Kings as I followed Çeda's journey, and the gods, monsters, and magic in this world are all fresh, original and wonderfully detailed. From the ebony blades of the Blade Maidens to the dangerous rush of power from the forbidden adichara petals, the powers beyond the forces of steel and fist depicted in this world are chaotic, wild, and entrancing.
Read the complete review, "Twelve Kings in Sharakhai by Bradley Beaulieu is a Must-Read for Fans of Lush Epic Fantasy," at SF Signal.
Twelve Kings in Sharakhai was published by DAW on September 1, 2015. It is 592 pages, priced at $24.95 in hardcover, and $9.99 for the digital version. The gorgeous cover art (click for the full wraparound cover jacket) is by Adam Paquette. Get more details at Brad's website.