The Public Life of Sherlock Holmes: Solar Pons & The Dorak Affair
The Public Life of Sherlock Holmes: Solar Pons & The Dorak Affair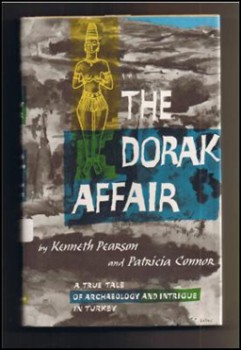 One of my favorite Solar Pons stories by August Derleth is "The Adventure of the Golden Bracelet." If you've read that one, you know that an archeologist discovered a fabulous treasure horde at a mysterious woman's house, made rubbings of the pieces, then found himself embroiled in a scandal when the items turned out to be stolen and no trace of the woman could be found. Pons figures things out and it's quite a tale.
Derleth didn't spin this tale out of whole cloth. It relied heavily on The Dorak Affair. James Mellaart was a well-known archeologist with some great successes in Turkey. Riding on a train in Turkey, a woman came in and sat across from him.
She wore a bracelet like the ones found at Troy. She gave her name as Anna Papastrati and said she had many more like it at home. Mellaart accepted her offer to go see them.
She revealed a large collection of artifacts, which she said came from tombs her family uncovered in the village of Dorak. The elated Mellaart was convinced he had proof regarding the Yortans, Troy's sea-faring neighbors.
He spent three days and nights at her house (certainly bold for the married man), making sketches of the collection. She promised to send him photographs he showed her of the tombs. The photos never came, but after a time, Mellaart did receive a letter from her, saying he could use his sketches in an article.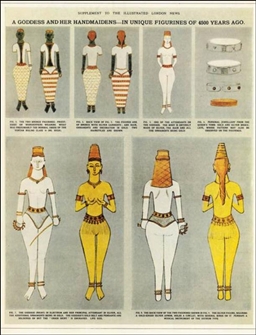 The story was published in 1959. Turkish authorities filed criminal charges against Mellaart in 1962, naming him as part of a nearly fifty million dollar plot to smuggle Dorak treasures out of the country. They had to be dropped in 1965 but Mellaart was denied permits to excavate in Turkey.
Anna was never heard of again. The government couldn't find the address that Mellaart gave them for Anna's house, adding that it was in a commercial zone with no residences. There is some evidence that the permission letter sent by Anna was actually typed by Mellaart's wife.
The Dorak Affair drifted into legend, then obscurity. Mellaart wrote a 60,000 word monograph on the subject which a few people have seen but its whereabouts are unknown, and he died in 2012.
In 2005, it was reported that archeologist David Stronach said that Mellaart made up the whole thing. I don't know what the truth is, but I've read far more convincing revelations of hoaxes than this supposed solution.
If you've read Derleth' story, you know that there are a great many points of similarity. But Derleth puts an O. Henry twist at the end that makes it stand on its own two legs. You can find a non-spoiler commentary on "The Adventure of the Golden Bracelet" at my website, www.SolarPons.com.
Since this would be my shortest PLoSH post ever, I'll talk a bit about the collection that "The Golden Bracelet" comes from.
THE CHRONICLES OF SOLAR PONS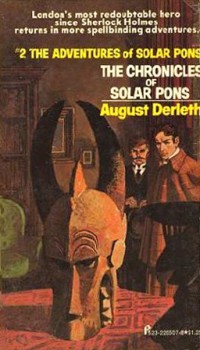 August Derleth died on July 4, 1971, aged 69. In 1973, the final collection of his Solar Pons tales was published (excluding The Final Adventures, which contained intentionally unreleased stories). The Chronicles of Solar Pons contained six never before seen stories, as well as four previously published ones.
Of the four two had been released as low volume chapbooks: "The Adventure of the Orient Express" (1965) and "The Adventure of The Unique Dickensians" (1968). "The Adventure of the Missing Tenants" had appeared in The Dragnet Magazine way back in 1929. So of the entire collection only "The Adventure of the Red Leech" (Alfred Hitchcock's Mystery Magazine – 1966) was likely to be familiar to readers. Though probably not even that.
We all know that Sir Arthur Conan Doyle's interest in Sherlock Holmes diminished over the years, and many of the final stories were among the weakest. On the contrary, The Chronicles shows that, in his final years, August Derleth was writing Pons as well as he ever did.
"The Orient Express," which is more than twice as long as the average Pons story, is a thoroughly enjoyable tale of suspense and espionage, as spies race to France on that train that Agatha Christie made famous. It's unlike any other Pons story and establishes that Derleth could write a mysterious spy thriller.
"The Seven Sisters," "The Benin Bronze," and "The Golden Bracelet" also show Derleth and Pons at the top of his form. "The Unique Dickensians" is one of my favorite Christmas stories. "The Missing Tenants," which was actually one of the first Pons stories that Derleth wrote, is another favorite of mine.
And, tipping Pons' deerstalker to Holmes right to the end, "The Red Leech" and "The Aluminum Crutch" are titled after two of Doctor Watson's' references to the unrecorded cases.
For top to bottom quality, The Chronicles may be the best collection of them all (though Alan Hubin's introduction is disappointing). It's a shame Derleth didn't live another decade and grace us with another collection of fine Pons stories.
---
You can read Bob Byrne's 'The Public Life of Sherlock Holmes' column here at Black Gate every Monday morning.
He founded www.SolarPons.com, the only website dedicated to the 'Sherlock Holmes of Praed Street' and blogs about Holmes and other mystery matters at Almost Holmes.
His "The Adventure of the Parson's Son" is included in the largest collection of new Sherlock Holmes stories ever published.