SEPTOBERFRIGHT Prologue…
SEPTOBERFRIGHT Prologue…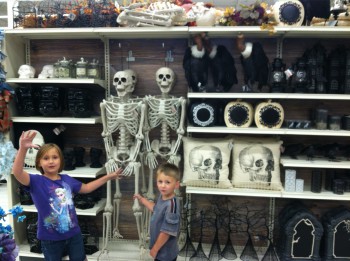 Up here near Lake Wobegon, the last two weeks of August have felt more like fall than summer. In the past three days I have seen two sure signs of autumn: the first changing leaves and the first Hallowe'en displays.
I snapped the picture at right in Michael's three days ago. Those skeletons may be a little early to the party, but what the heck: let 'em in, and let the Macabre Danse Party begin!
Sure, All Hallow's Eve is still two months off, and talk of trick-or-treating might strike some as being premature as an Edgar-Allan-Poe-imagined burial. I know it drives some folks batty that retailers start hawking holiday products months ahead of the calendar, and it makes them want to howl at the moon when they walk into their favorite box store in August and see Spook Alleys and Creepy Corners and Haunted Aisles already being rolled out. And even before the last cry of "trick or treat!" has echoed down the block, one can bet that the Christmas displays will debut.
(I took a wonderful pic in Shopko last year that was borderline surreal — Christmas angels vying for shelf space with zombies and ghouls, a strange Nightmare-Before-Christmas juxtaposition. It perfectly captured the retailer crossover moment when the last of the fright-night nick-nacks are on clearance and have not yet been cleared out for the glittery gewgaws celebrating peace on Earth and goodwill to mankind.)
If it bothers you, I understand. I sympathize. I do. But I must confess that I have a weakness for all the holiday trappings, even the cheap plastic kinds that move and light up and make sounds for (if you're lucky) one season and then break. When I spot the first plastic jack-o-lantern on an end-cap display or the first bag of Brach's Halloween Mellowcremes on the checkout aisle, I do get a bit giddy.
Hey, it's my favorite time of year: why relegate it to one night when you can revel in it for two months? Life is too short not to celebrate the holidays as long as humanly possible, to milk them for every last little pleasure. In my opinion, anyway.
I'm also known to be a fan of Yuletide, that time of year when my namesake (the one who is called a saint) comes for a visit. So, for me, the period spanning September through December is a four-month-long holiday fusion, with Thanksgiving dropping in the middle like a halftime show.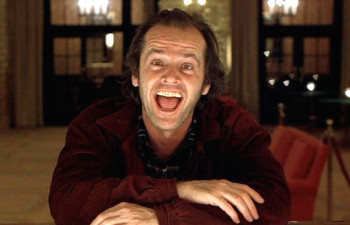 To embrace the haunting season this year, my posts from now until November 2 are going to focus on the dark, eerie corner of speculative fiction and film generally labeled "horror." Come along with me for the first annual SeptOberFright as I visit the basement of our genre, exploring the "dark" in dark fantasy, the "macabre" in tales of mystery and the macabre, the "great" in It's the Great Pumpkin, Charlie Brown!.
I have a whole pile of horror films stacked up next to the DVD player. I am finishing up my reading of the now-classic horror anthology October Dreams; its 2015 follow-up, October Dreams 2, is on its way. Reaching back a bit, I believe some discussion of the work of William Hope Hodgson is in order. Beyond that, I don't know — we'll just have to see what SeptOberFright has in store. We do have two whole months to kill.