New Treasures: Updraft by Fran Wilde
New Treasures: Updraft by Fran Wilde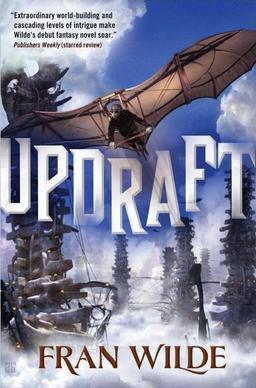 As I mentioned in my post on The Sorcerer of the Wildeeps, Tor has really been on a tear recently with some top-notch debuts. They've always been willing to take a chance on new authors, but recently some of their most exciting releases have come from new authors. That continues with Updraft, the first novel from Fran Wilde, whose short fiction has been getting notice in Beneath Ceaseless Skies, Nature, and Asimov's SF.
Welcome to a World of Wind and Bone, Songs and Silence, Betrayal and Courage

Kirit Densira cannot wait to pass her wingtest and begin flying as a trader by her mother's side, being in service to her beloved home tower and exploring the skies beyond. When Kirit inadvertently breaks Tower Law, the city's secretive governing body, the Singers, demand that she become one of them instead. In an attempt to save her family from greater censure, Kirit must give up her dreams to throw herself into the dangerous training at the Spire, the tallest, most forbidding tower, deep at the heart of the City.

As she grows in knowledge and power, she starts to uncover the depths of Spire secrets. Kirit begins to doubt her world and its unassailable Laws, setting in motion a chain of events that will lead to a haunting choice, and may well change the city forever — if it isn't destroyed outright.
Read an excerpt at Tor.com, and read Fran's new short story set in the same world, "Bent the Wing, Dark the Cloud," just released in the latest issue of online magazine Beneath Ceaseless Skies.
Updraft will be published by Tor Books on September 1, 2015. It is 364 pages, priced at $25.99 in hardcover and $12.99 for the digital edition. The cover is by Stephan Martinere.