Vintage Treasures: The Martian Inca by Ian Watson
Vintage Treasures: The Martian Inca by Ian Watson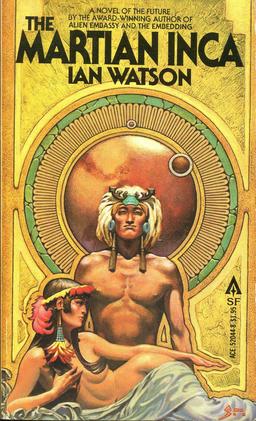 British author Ian Watson has published 34 SF and fantasy novels and eleven short story collections, including The Books of the Black Current trilogy, The Embedding, Alien Embassy, God's World, The Gardens of Delight, and Queenmagic, Kingmagic. He's also the author of The Inquisition War trilogy, three early novels in the Warhammer 40K universe.
His fourth novel, published in hardcover by Charles Scribner's Sons and reprinted in paperback by Ace Books in 1978, was The Martian Inca. When a Martian probe returning to Earth crash-lands in the Peruvian Andes, a virulent infection wipes out whole tribe…. all except one man, who awakens from a fever with miraculous powers — and a strange destiny.
The Mars Probe has crashed.

A triumph of Soviet technology, the first two-way interplanetary probe performed brilliantly until the final stage of its return. Then something went wrong: rather than following its programmed course to a soft landing in its country of origin, the probe crashed in the Peruvian Andes.

Now a weird infection beyond the understanding of medical science has wiped out an entire village — except for one man, who, alone and undiscovered by medics, survives. He has awakened to find himself become his own ancestor, and a god. Suddenly the flames of an Indian revolution are spreading South America; he is the Martian Inca.
The Martian Inca was published by Ace Books in October 1978. It is 299 pages in paperback, priced at $1.95; it remained out of print in the U.S. until a digital version was published in 2011. The cover is by Stephen Hickman.
See all of our recent Vintage Treasures here.