Locus Online on C.S.E. Cooney's Bone Swans
Locus Online on C.S.E. Cooney's Bone Swans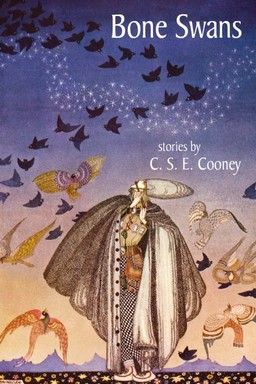 Bone Swans, the long awaited first collection from C.S.E. Cooney, has been loudly acclaimed since its release last month. It received a starred review from Publishers Weekly, and a rave review from Tor.com — especially for "Life on the Sun," which was originally published here at Black Gate. And Library Journal called it "Five beautifully crafted stories… full of flying carpets, fairy-tale characters, and children confronted with a postapocalyptic Earth… [a] gorgeous new collection." Now Locus Online's Paul Di Filippo weighs in, saying:
This is a strong and enduring debut collection… As might be predicated based on its name, the genre dubbed the "New Weird" has its roots in the Old Weird, and one tendril of those roots extends back to the Weird Tales crew. Thus it's not too surprising that Cooney's state-of-the-art New Weird tale "Life on the Sun" at times reads like something from the Robert E. Howard canon, with strange tribes, bizarre magics, desert-circled cities, and other nifty pulp tropes. But of course, since Cooney's poetic, evocative prose is of a higher order of sophistication than Howard's, the resulting tale is a thing apart. The city of Rok Moris is undergoing a simultaneous assault from without and rebellion from within. At the heart of both movements, it eventuates, is a young woman named Kantu. Her denied birthright contends with her chosen mature allegiances, and she must somehow reconcile them for the survival of her city and all its citizens… Overall, if the byline had been stripped from this tale, one would not be surprised to hear it came from the pen of Tanith Lee…

In his beguiling and affectionate introduction, Gene Wolfe nominates Cooney as a fully formed savant of fantastika at age eighteen. Having matured and honed her skills since then, as seen in this collection, she surely is embarked on a literary odyssey as rewarding and thrilling as any undergone by her bevy of unforgettable heroes and heroines.
Bone Swans was published by Mythic Delirium Books on July 1, 2015. It is 224 pages, priced at $15.95 in trade paperback and $5.99 for the digital version. The cover art is by Kay Nielsen. See the Mythic Delirium website for more details, and the complete Table of Contents here.