C.S.E. Cooney Gets a Starred Review from Publisher's Weekly
C.S.E. Cooney Gets a Starred Review from Publisher's Weekly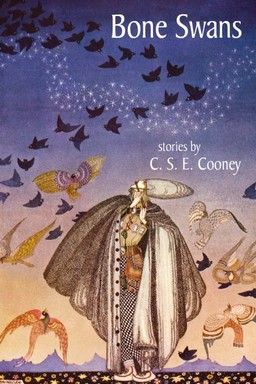 C.S.E. Cooney, Black Gate's website editor emeritus, signed with Mythic Delirium Press for her first short fiction collection, Bone Swans, and it's already gathering rave reviews in advance of its July release. Publishers Weekly gave the book a starred review, saying:
Cooney's brilliantly executed collection of five stories is a delicious stew of science fiction, horror, and fantasy, marked by unforgettable characters who plumb the depths of pathos and triumph. In "Life on the Sun," sacrifice and rebirth are explored in a fantastical desert where future tech and wizardry mingle, as a mystical pharaoh-like figure forces a young rebel fighter to stoically embrace her fate. Children bravely battle to survive an adult-free, post-apocalyptic Earth in "The Big Ba-Ha," even though they know their demise — hungrily anticipated by the ghoulish creatures that now share their world — is inevitable… Cooney's magical prose elicits laughter even as gruesome scenes induce shudders, and her expert pacing breathlessly buoys the reader to each story's conclusion. All of these stories could easily serve as the foundation for novels while also working beautifully at their current length. These well-crafted narratives defiantly refuse to fade from memory long after the last word has been read.
Bone Swans will be released next month, but if you can't wait you can read some of the stories in their original online appearances, including right here at Black Gate: "Life on the Sun," (from Black Gate), "Martyr's Gem" (from Giganotosaurus) and "How the Milkmaid Struck a Bargain with the Crooked One" (from Giganotosaurus).
Bone Swans will be published by Mythic Delirium Press on July 7th, 2015, with an introduction by Gene Wolfe. It is 224 pages, priced at $5.99 for the digital edition. Get more details on their website.