Bird People, Evil Clowns, and the Crooked One: Bone Swans by C.S.E. Cooney
Bird People, Evil Clowns, and the Crooked One: Bone Swans by C.S.E. Cooney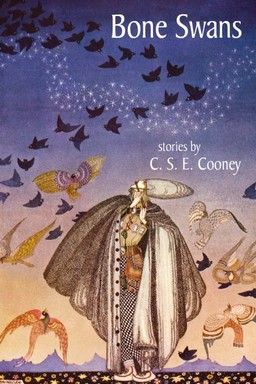 C.S.E. Cooney reports that she has signed a contract with Mythic Delirium Press for her newest collection Bone Swans, coming this summer.
Bone Swans will contain several of her most popular novellas, including The Big Bah-Ha, which Gene Wolfe called "Deep and wise and fabulous… [it] will leave you shuddering and strangely at peace. You could found a religion on it — or it may found a religion without you." It also includes "The Bone Swans of Amandale," the first installment of Silver and Bone: The Pied Piper Tales, and "Life on the Sun," originally published here at Black Gate. Here's the complete table of contents, with links to online versions where available:
Life on the Sun
The Bone Swans of Amandale
Martyr's Gem
How the Milkmaid Struck a Bargain with the Crooked One
The Big Bah-Ha
C.S.E. Cooney is a podcast reader for Uncanny Magazine; Amal El-Mohtar recently reviewed her short story "Witch, Beast, Saint" at Tor.com, and Mark Rigney interviewed her in late October. The two C.S.E. Cooney short stories we presented here, "Godmother Lizard" and "Life on the Sun," consistently rank among the most popular pieces we've ever published. She is a past website editor of Black Gate, and the author of How to Flirt in Faerieland and Other Wild Rhymes and Jack o' the Hills.
Bone Swans will be published by Mythic Delirium Press on July 7th, 2015. Get more details on their website.