C.S.E. Cooney's The Big Bah-Ha Now Available
C.S.E. Cooney's The Big Bah-Ha Now Available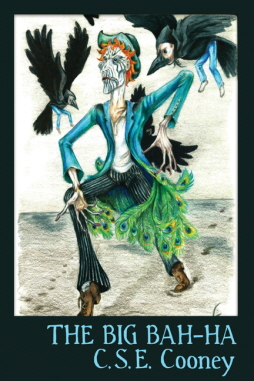 Black Gate's C.S.E. Cooney's dark fantasy novella The Big Bah-Ha is finally available from Drollerie Press in a variety of electronic formats.
The Big Ba-Ha is a post-apocalyptic fairy tale, following a band of near-feral children who brave a plague-ridden landscape on a desperate quest to rescue one of their own:
Beatrice, who only moments before was the eldest member and leader of the Barka gang, wakes up dead. She was almost, probably, 12. Either the slap rash got her, as it gets everyone over the age of 12, or the Flabberghast got tired of waiting for her to drop dead and took her skin for a door and her bones for his stew. Who can say? What she can say is that she didn't get to wake up in heaven. Instead, she's in the Big Bah-Ha, a place that's supposed to be a comfort to children after they pass on. Only something's very, very wrong here and, despite all her bravery and cunning, she's not quite sure how to fix it or if she'll survive the afterlife long enough to try.
Gene Wolfe said:
It is deep and wise and fabulous, and will leave you shuddering and strangely at peace. You could found a religion on it — or it may found a religion without you. Or found some new thing that humankind has not yet seen. Only God knows what would happen after the founding. As someone (you'll find out who) says deep in the story, 'We're all clowns now.'"
The Big Ba-Ha is available for just $4.25. You can also read an excerpt or pre-order the print (both trade paperback and signed and lettered hardcover) versions here.
Check it out!  You'll thank us later.