New Treasures: Moth and Spark by Anne Leonard
New Treasures: Moth and Spark by Anne Leonard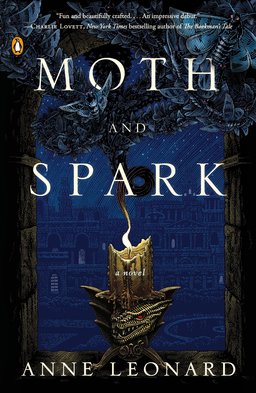 Anne Leonard's debut novel, published earlier this week, is a romantic fantasy being compared to A Discovery of Witches. It also has dragons in it. Most romances could be improved by adding dragons, I think.
A prince with a quest, a beautiful commoner with mysterious powers, and dragons who demand to be freed — at any cost

Prince Corin has been chosen to free the dragons from their bondage to the power Mycenean Empire, but dragons aren't big on directions. They have given him some of their power, but none of their knowledge. No one, not the dragons nor their riders, is even sure what keeps the dragons in the Empire's control. Tam, sensible daughter of a well-respected doctor, had no idea before she arrived in Caithenor that she is a Seer, gifted with visions. When the two run into each other (quite literally) in the library, sparks fly and Corin impulsively asks Tam to dinner. But it's not all happily ever after. Never mind that the prince isn't allowed to marry a commoner: war is coming. Torn between his quest to free the dragons and his duty to his country, Tam and Corin must both figure out how to master their powers in order to save Caithen. With a little help from a village of secret wizards and rogue dragonrider, they just might pull it off.
Moth and Spark was published by Penguin Books on December 30, 2014. It is 384 pages, priced at $16 in trade paperback and $9.99 for the digital version.
See all of our recent New Treasures here.