Raya Golden on Building a Career as a Hugo Nominated Illustrator, Putting Up with Demanding Author Clients, and Her Talent for Gay Pinups
Raya Golden on Building a Career as a Hugo Nominated Illustrator, Putting Up with Demanding Author Clients, and Her Talent for Gay Pinups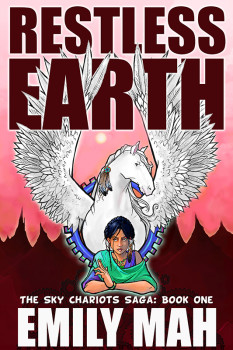 It is cover reveal day for my two upcoming novels, Restless Earth and Blessing Sky, and so these beautiful covers are being posted all around the internet. What better excuse to interview Raya Golden, the illustrator? Raya lives here in Santa Fe, New Mexico, and has been working as a professional artist for ten years.
Recently, she and I sat down to discuss a wide range of topics (hence the interview has a detailed guide below it that tells you where to click to hear about the topics that interest you.) First we discussed how to build a career as an artist; it isn't easy. Then we got into the particulars of different kinds of art, from her Hugo Nominated work on George RR Martin's Meathouse Man comic, to the graphic novel she is working on now. She was kind enough to explain the process of creating a graphic novel or comic step by step.
Then there are book covers, which present a plethora of challenges. She and I talked about everything from the design basics of an effective book cover to the challenges of portraying minority cultures. During this time I also explained the milieu and setting of these novels, which are essentially fantasy steampunk westerns.
So without further ado, may I present:
An Interview with Raya Golden
Conducted and Edited by Emily Mah, June, 2015
Since this is a long interview, let me break it down, the numbers are the timestamps in the video:
Building a Career as an Illustrator
The interview begins with us talking about her career as a professional artist, from art school at The Academy of Art in California, to her current job as a freelance illustrator.
2:54 We discuss illustration, what it is and what mediums fall under that category of art.
4:18 Raya explains how she transitioned from art school to a career as an artist. This includes a brief discussion about how many mediums she works in, the pros and cons of internships, and her final transition to her current job.
Raya's Hugo Nominated Work and Other Projects
8:26 Pretty much everything we're going to say about her boss, George RR Martin and the Dragonstone art studios.
10:11 Raya shows off her Hugo nominated work on Meathouse Man, a comic she did based on a "the sickest short story George RR Martin has ever written" (according to the man himself.)
12:04 Several current works Raya has in her studio, including a portrait of Neil Gaiman and his wife.
The Making of a Comic or Graphic Novel, Step-by-Step
13:50 Every step required to take a graphic novel from initial concept, to comic script, to illustrated panels, to the final layout. Just the first step required 280 pages of sketches.
17:26 An example of how difficult it can be to adapt imagery that works on film or in prose to the graphic novel/comic book format.
19:00 All the work that goes into the creation of settings and locations within a graphic novel/comic. This includes the importance of lighting to create mood.
21:12 The final production process of illustration of the graphic novel/comic to delivery to the printer.
23:45 All the details we can discuss about the project, which does not yet have a set title. It's a very cool concept, though!
24:32 How illustration can accomplish things that are very difficult in film.
Art in the World of Self-Publishing
25:53 The pitfalls of working on self-published projects, some cautionary words in here. She also discusses working for me.
An Introduction to Book Cover Design
29:39 Trends in cover art. Photorealism is very dominant these days, and we explain why we didn't go that direction with my covers. We talk about what important things can be achieved by images that depart from hyper-realism.
32:58 Why simplifying an image for the purposes of illustration is far from "easy."
About My Books and the Challenges of Depicting Minority Culture in Mass Media
34:20 The process of commissioning these covers, including the artistic styles I wanted her to incorporate. This is a good example of how a working artist needs to adapt to each new job.
36:31 The setting and milieu of my Sky Chariots Saga books. They're a fantastical version of New Mexico, and this part also includes discussion of the challenges of portraying real world cultures in fantasy.
39.26 Racism in cover design, illustration, and other mass media – it's still alive and well, and the two of us (both minorities) discuss our views on that.
41:49 Raya explains her process of evoking ethnicity in her cover illustration.
43:40 The socio-political situation in my novels. My main characters do not have it easy.
More Principles of Effective Cover Design
47:47 A discussion of negative space and why you need it.
49:00 The particular challenges of making three covers that are all consistent and flow together (I also explain my method of series writing for these books.)
50:55 The importance and challenges of color to evoke the right look and feel of the image.
52.22 Ensuring the cover works at thumbnail size (which is how most people will first see your cover, these days) and the rule of three.
54:35 How to make one image work for a whole novel.
Images for the Book Interior, Including the Map at the Beginning
56:01 Designing the interior of the book.
56:59 The map at the beginning of the book, and the truth about fantasy maps that every author should know.
59:37 The importance of knowing the layout of your world when writing fantasy.
Final Awesomeness from Raya
1:03:26 Raya displays more work, including a mini she's repairing for her boss, and we sign off.
Her website, again, is: www.rayagolden.com
---
Emily Mah is a writer, sometimes cover designer, and owner of E.M. Tippetts Book Designs, which provides editing, formatting, and design services to indie authors and publishers. Her last interview on Black Gate was of Paolo Bacigalupi. You can find out more about her science fiction and fantasy writing at www.emilymah.com