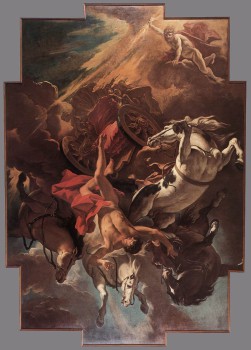 If there's anything you learn quickly from Ovid, it's that the gods are real jerks. They aren't people you want anything to do with.
This is a consistent theme in the ancient world. The entire goal of existence with relation to the gods was to do what you had to do to stay in their good graces and to avoid them ever noticing you. Make your sacrifices, avoid outright blasphemy and sins that really anger them, and otherwise? Don't ever be too.
Too rich. Too powerful. Too beautiful. Too lucky. Too happy. All of these things are potentially fatal, and that's just if you're a mere mortal. If you have the ill luck to be related to one of the gods, you're all but guaranteed trouble.
So Phaeton is pretty well doomed. When he is taunted by a friend for being a bastard, he asks mother for proof of his parentage. She tells him where to find the palace of the sun, and off he goes. When he arrives, the Sun confirms that he is indeed Phaeton's father and offers him one favor of his choosing to prove it.
Next rule: never accept a favor from a god. Or a nymph. Or a spirit of any kind. If you ever find yourself in a myth, turn down all favors. It will not end well.
Phaeton, being a young man, asks to borrow his dad's car. The super cool one that burns with the heat of the sun. Pheobus immediately realizes that he has made a terrible mistake, but his son won't be persuaded. Off Phaeton goes, with his father's reins in hand.
---