New Treasures: For a Few Souls More by Guy Adams
New Treasures: For a Few Souls More by Guy Adams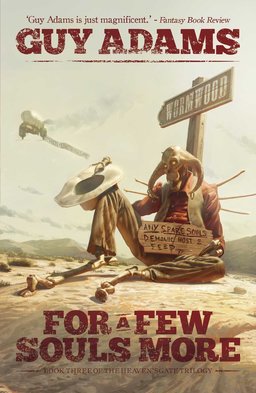 I've been waiting for the conclusion of Guy Adams's Heaven's Gate trilogy since the first installment, The Good The Bad and the Infernal, appeared in March 2013. The second volume, Once Upon a Time in Hell, was published almost exactly a year ago. It's a gonzo Weird Western with demons, supernatural cowboys, and steampunk Indians.
In the third and final volume, For a Few Souls More, Heaven has fallen to Earth, joining the Union as the 43rd state… and the President sets out for the legendary town of Wormwood, the traveling community which appears once every hundred years for a single day.
The uprising in Heaven is at an end and Paradise has fallen, becoming the forty-third state of America. Now angels and demons must learn to get along with humans.

The rest of the world is in uproar. How can America claim the afterlife as its own? It's certainly going to try as the President sets out for the town of Wormwood for talks with its governor, the man they call Lucifer.

Hell has problems of its own. There's a new evangelist walking its roads, trying to bring the penitent to paradise, and a new power is rising. Can anyone stand up to the Godkiller?
For a Few Souls More was published on December 30, 2014 by Solaris. It is 316 pages, priced at $7.99 in paperback and $6.99 for the digital edition. The cover is by Jake Murray.