Last Chance to Win a Copy of Weirder Shadows Over Innsmouth, edited by Stephen Jones
Last Chance to Win a Copy of Weirder Shadows Over Innsmouth, edited by Stephen Jones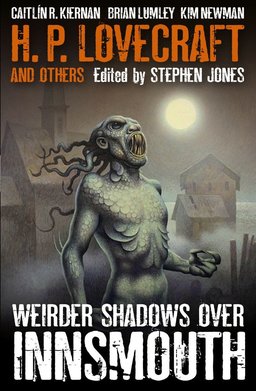 Last week, we told you that you had a chance to win one of two copies of the new paperback edition of Stephen Jones's major horror anthology, Weirder Shadows Over Innsmouth, on sale this month from Titan Books.
How do you enter? Just send an e-mail to john@blackgate.com with the subject "Weirder Shadows Over Innsmouth" and a one-sentence suggestion for the writer you'd most like to write a Lovecraftian horror story today. That's it; that's all that stands between you and a copy of one of the most exciting anthologies of the year. Two winners will be drawn at random from all qualifying entries and we'll announce the winners here on the Black Gate blog. What could possibly be easier? But time is running out — the contest closes February 2.
Here's the book blurb:
Final Shadows Gather…

The final volume in the trilogy that began with the World Fantasy Award-nominated Shadows Over Innsmouth (1994) and Weird Shadows Over Innsmouth (2005), containing stories by Ramsey Campbell, Adrian Cole, John Glasby, Brian Hodge, Caitlín R. Kiernan, Brian Lumley, Kim Newman, Reggie Oliver, Angela Slatter, Michael Marshall Smith, Simon Kurt Unsworth and Conrad Williams, along with an Innsmouth poem by H.P. Lovecraft and a "posthumous collaboration" between the author and August Derleth.
Once again taking Lovecraft's original 1931 novella as inspiration, we are introduced to the Massachusetts seaport and its ichthyoid denizens years before that fateful FBI raid. From there, Dagon's blasphemous spawn spread out across the globe, while the offspring of that decaying fishing town undergo their own, often bizarre, metamorphoses.

While the world changes, so through eldritch rituals and human sacrifices the Deep Ones' masters — the terrifying Great Old Ones themselves — prepare to escape their prisons when the stars are right, so that they may once again reclaim the Earth as their own. As the waters continue to rise, mankind begins its ultimate struggle for survival against a pantheon of dark gods and their batrachian foot-soldiers…
No purchase necessary. Must be 12 or older. Decisions of the judges (capricious as they may be) are final. Not valid where prohibited by law. Eat your vegetables.
Weirder Shadows Over Innsmouth will be published on January 27, 2015 by Titan Books. It is 480 pages, priced at $14.95 in trade paperback and $9.99 for the digital version. Learn more at the Titan Books website.