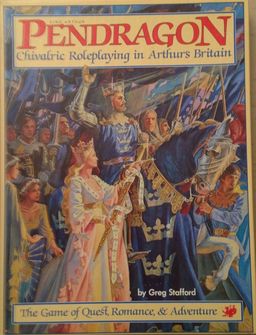 Back in August, I wrote a mini-history of one of my favorite gaming companies, Chaosium, in the middle of a review of Pavis: Gateway to Adventure.
That was fun. Plus, it was a great excuse to wax nostalgic about the brief period between 1981 and 1986, when Chaosium released some of the finest RPGs and RPG supplements ever created. Published in handsome boxed editions, they started with Thieves' World and continued with Stormbringer in 1981, Borderlands (1982), Worlds of Wonder (1982), Superworld (1983), Pavis (1983), Masks of Nyarlathotep (1984), Cthulhu by Gaslight (1986), H.P. Lovecraft's Dreamlands (1986), Spawn of Azathoth (1986), Arkham Horror (1984), Ringworld (1984), Elfquest (1984), Hawkmoon (1986), and the fabulous Horror on the Orient Express.
Wonderful stuff. Masks of Nyarlathotep is frequently cited — even today — as one of the finest adventures released for any game system, and Arkham Horror is considered a classic board game, still in print today in a new edition from Fantasy Flight Games. Many titles were expanded and reprinted in later editions, including Stormbringer, Cthulhu by Gaslight, and Dreamlands.
But perhaps the most celebrated release, of a fabulous line up, was the title that legendary game designer Greg Stafford — founder of Chaosium and creator of the fantasy world Glorantha — considered his masterpiece: the Arthurian role-playing game Pendragon.
---