New Treasures: Johannes Cabal: The Fear Institute by Jonathan L. Howard
New Treasures: Johannes Cabal: The Fear Institute by Jonathan L. Howard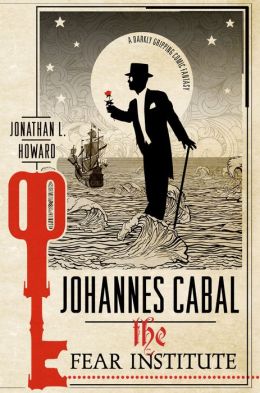 I still remember the first Jonathan L. Howard story I ever read. It was buried in the slush pile and I'd almost given up reading submissions for the evening, but told myself I'd try one more before heading to bed.
Turned out to be a good decision. The story, about a young thief named Kyth hired to penetrate a deadly tomb, was filled with surprises — not least of which was the amiable lich who congratulated Kyth when she reached the heart of his lair. It was titled "The Beautiful Corridor," and I was happy to purchase it for Black Gate 13 — and its sequel, "The Shuttered Temple," for BG 15.
Jonathan's first novel was the highly regarded Johannes Cabal the Necromancer (2009), followed by Johannes Cabal the Detective (2010). Now at last the third volume has arrived and it promises a fresh serving of twisted comic fantasy, as the intrepid and resourceful Johannes Cabal plans an expedition into the Dreamlands.
Beyond the wall of sleep lie the Dreamlands, a whole world formed by dreams, but not a dream itself. For countless millennia, it has been explored only by those with a certain detachment from the mundane realities of our own world, its strange seas navigated, and its vast mountains climbed by philosophers, and mystics, and poets.

Well, those halcyon days are over, beatniks.

Johannes Cabal is coming.

Cabal, a necromancer of some little infamy, is employed by the mysterious Fear Institute to lead an expedition into the Dreamlands, an expedition whose goal is nothing less than to hunt and destroy the dread Phobic Animus, the font of terrors, the very source of all the world's fear. They will enter exotic lands where magic is common and monsters abound, see wonders, and suffer dreadful hardships. Cabal will encounter witches, vile abominations, and far too many zebras.

And, when they finally come close to their goal, Cabal will have to face his own nightmares, but for a man who communes easily with devils and the dead, surely there is nothing left to fear.
Jonathan's most recent novel was Katya's World, the first book of The Russalka Chronicles. Read Jonathan's article on writing the Johannes Cabel series and his interview with John Joseph Adams.
Johannes Cabal: The Fear Institute was published by Thomas Dunne Books on October 1st. It is 334 pages, priced at $24.99 in hardcover and $11.99 in digital format.