New Treasures: Katya's World by Jonathan L. Howard
New Treasures: Katya's World by Jonathan L. Howard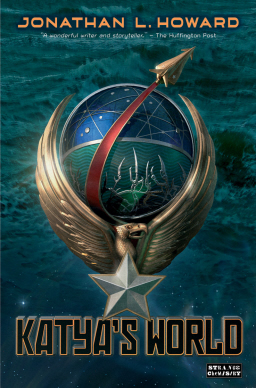 Those of you with sharp eyes last week noticed that, buried among the many intriguing titles in the Strange Chemistry Book Cover Montage we published on June 29, were the latest novels from Black Gate author Jonathan L. Howard.
Jonathan is a terrifically talented fantasy author. We published two of his stories featuring Kyth the Taker, the brilliant thief whose commissions inevitably involve her in sorcerous intrigue: "The Shuttered Temple" in Black Gate 15 and "The Beautiful Corridor" (BG 13.)
Jonathan's first novels were the popular Johannes Cabel books: Johannes Cabal the Necromancer (2010), Johannes Cabal the Detective (2010), and the upcoming Fear Institute. But one series doesn't appear to be enough for Jonathan. Here's the 411 on the first book of The Russalka Chronicles:
The distant and unloved colony world of Russalka has no land, only the raging sea. No clear skies, only the endless storm clouds. Beneath the waves, the people live in pressurised environments and take what they need from the boundless ocean. It is a hard life, but it is theirs and they fought a war against Earth to protect it. But wars leave wounds that never quite heal, and secrets that never quite lie silent.

Katya Kuriakova doesn't care much about ancient history like that, though. She is making her first submarine voyage as crew; the first nice, simple journey of what she expects to be a nice, simple career.

There is nothing nice and simple about the deep black waters of Russalka, however; soon she will encounter pirates and war criminals, see death and tragedy at first hand, and realise that her world's future lies on the narrowest of knife edges. For in the crushing depths lies a sleeping monster, an abomination of unknown origin, and when it wakes, it will seek out and kill every single person on the planet.
The second title in the series, Katya's War, is due in October.
Katya's World was published by Strange Chemistry on November 13, 2012. It is 320 pages in paperback, priced at $9.99 ($6.99 for the digital edition). Learn more at the Strange Chemistry website, and read Jonathan's thoughts on writing the Johannes Cabel books right here at Black Gate.