Goth Chick News Wishes You a Frighteningly Wonderful Halloween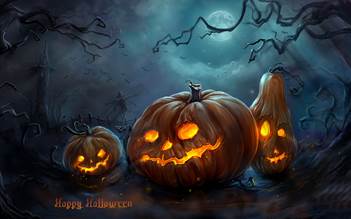 From all of us in the underground offices of Black Gate, wishing you a wonderful "holiday" season and thank you for continuing to follow us into the dark.
And now for your reading enjoyment, what would Halloween be without a little Edgar…?
Thy soul shall find itself alone
'Mid dark thoughts of the grey tomb-stone;
Not one, of all the crowd, to pry
Into thine hour of secrecy.

Be silent in that solitude,
Which is not loneliness — for then
The spirits of the dead, who stood
In life before thee, are again
In death around thee, and their will
Shall overshadow thee; be still.