New Treasures: Man Made Boy by Jon Skovron
New Treasures: Man Made Boy by Jon Skovron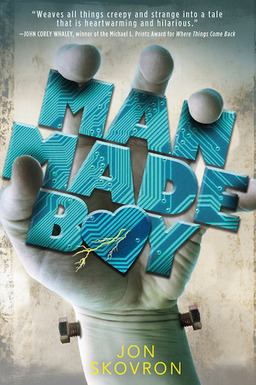 Paranormal romance has been the biggest trend in modern fantasy in the last decade. As Eddie so succinctly put it in Knight of the Dinner Table: The Java Joint, "Publishing today is all about getting hot and heavy with the unholy."
But while it certainly may seem that modern publishing has jettisoned all the old taboos and explored every conceivable relationship and forbidden love triangle with the monsters that once terrified us — sexy vampires, sultry demons, brooding werewolves, enigmatic fae, horny spirits, shy zombies, and on and on — one classic creature has been sorely neglected. One of the great cinematic monsters, who has unfairly been overlooked in this modern pageant of passion.
You know where I'm going with this.
Sure, maybe Frankenstein's monster isn't really leading man material. But let's face it — he's gotta be a cut above zombies and ghosts (and, depending on the quality of parts we're talking, possibly well above werewolves and demons too). Thus, I was well pleased to see Man Made Boy cross my desk earlier this month, a major fantasy release that looks to rectify this cruel oversight.
Love can be a real monster.

Sixteen-year-old Boy's never left home. When you're the son of Frankenstein's monster and the Bride, it's tough to go out in public, unless you want to draw the attention of a torch-wielding mob. And since Boy and his family live in a secret enclave of monsters hidden under Times Square, it's important they maintain a low profile.

Boy's only interactions with the world are through the Internet, where he's a hacker extraordinaire who can hide his hulking body and stitched-together face behind a layer of code. When conflict erupts at home, Boy runs away and embarks on a cross-country road trip with the granddaughters of Jekyll and Hyde, who introduce him to malls and diners, love and heartbreak. But no matter how far Boy runs, he can't escape his demons—both literal and figurative — until he faces his family once more.

This hilarious, romantic, and wildly imaginative tale redefines what it means to be a monster — and a man.
Man Made Boy was written by Jon Skovron, published on October 3 by Viking. It is 368 pages, priced at $17.99 in hardcover and $10.99 in digital format.