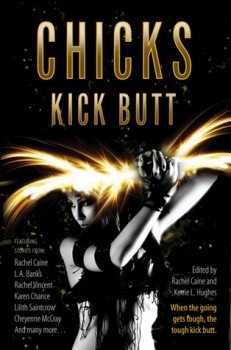 Chicks Kick Butt
Rachel Caine and Kerrie L. Hughes (eds.)
Tor (pages 349, $14.99, trade July 2011)
Reviewed by Alana Joli Abbott
Anthologies should accomplish two things. Readers unfamiliar with the authors should have their interest piqued and should want to read more by those authors. Readers familiar with the works of the writers should feel that the story is a reward – an extra – that enhances their reading experience of the other works. In the case of Chicks Kick Butt, several – but not all – of the stories engaged me and left me wanting more by the writers.
Overall, it is a strong collection, filled with writers who have had novels on bestseller lists, many at The New York Times. Perhaps most pleasantly, the stories tend to be about women who are not too awesome to be interesting. While a few of the heroines are amazing fighters who literally kick butt, most are vulnerable or unsure of their own abilities; it is their determination, perseverance, and wits that sees them through. Given frequent complaints about how "strong woman" has had a single definition in the media, this anthology bucks the trend by featuring women with a variety of strengths.
---