New Treasures: The Best Science Fiction and Fantasy of the Year, Volume Six
New Treasures: The Best Science Fiction and Fantasy of the Year, Volume Six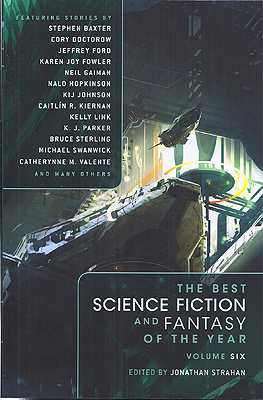 In the days of my halcyon youth (no, I'm not 100% sure what that word means either, but I've always liked it), I used to look forward to the Year's Best SF collections from Terry Carr, Lin Carter, and Donald Wollheim. I was still being introduced the riches of the field, and those Best Of volumes were a terrific shortcut to discovering the finest writers out there.
In our modern times this tradition is carried on by Rich Horton, David Hartwell & Kathryn Cramer, Gardner Dozois, and the talented Mr. Jonathan Strahan, who's now up to his sixth volume of The Best Science Fiction and Fantasy of the Year.
I've found his past collections excellent, and this year looks to be no exception. Here's a peek at the contents:
An ancient society of cartographer wasps create delicately inscribed maps; a bodyjacking parasite is faced with imminent extinction; an AI makes a desperate gambit to protect its child from a ravenous dragon; a professor of music struggles with the knowledge that murder is not too high a price for fame; living origami carries a mother's last words to her child; a steam girl conquers the realm of imagination; Aliens attack Venus, ignoring an incredulous earth; a child is born on Mars…

For the sixth year in a row, master anthologist Jonathan Strahan has collected stories that captivate, entertain, and showcase the very best the genre has to offer. Critically acclaimed, and with a reputation for including award-winning speculative fiction, The Best Science Fiction and Fantasy of the Year is the only major "best of" anthology to collect both fantasy and science fiction under one cover.
The Best Science Fiction and Fantasy of the Year, Volume Six is published by Night Shade Books. It is 606 pages for $19.99 in trade paperback, with a cover by Sparth.  Buy it online from one of my favorite book sellers, Mark V. Ziesing at Ziesing.com.