Clarkesworld #67
Clarkesworld #67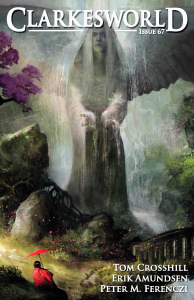 The April  issue of Clarkesworld is currently online. Featured fiction: "Fragmentation, or Ten Thousand Goodbyes" by Tom Crosshill, "Draftyhouse" by Erik Amundsen and "The Womb Factory" by Gary Kloster.  Non fiction by Brian Francis Slattery, Jeremy L.C. Jones and Danile Baker.  The cover art is by Steve Goad.
All of this is available online for free; there's even an audio podcast version of the Crosshill story read by Kate Baker. However, nothing is really free. The magazine is supported by "Clarkesworld Citizens" who donate $10 or more. There's also a Kindle edition.
We last covered Clarkesworld with issue #66.