J.M. McDermott's Never Knew Another
J.M. McDermott's Never Knew Another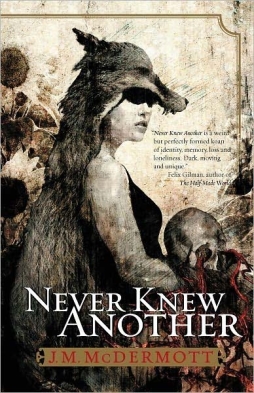 Never Knew Another
by J.M. McDermott
Night Shade Books (240pp, $14.99 USD, trade paperback February 2011)
Reviewed by Matthew David Surridge
J.M. McDermott's third book, Never Knew Another, is a secondary-world fantasy tale told in a sparse yet elegant style, about hunters seeking dangerous magical prey — and also about two people drawing closer to each other without knowing it, despite having to hide their true natures from the world around them. Perspectives nest one inside another; the book's always clear, but leaves much meaningfully unsaid, and effortlessly holds the voices of its characters in a delicate balance, allowing them to contrast with each other without any given one being overwhelmed. It's a remarkable accomplishment, and a strong, unconventional beginning to a promising trilogy.
It starts with a pair of holy werewolves, following a trail to a human city they call Dogsland. The werewolves are hunting demons, or humans with demonic ancestry. Creatures with demons in their family tree are dangerous; their sweat is acidic, and their blood can wither plants, or make normal humans very sick indeed. It's as though they're radioactive, potentially causing illness and death around them even if they don't consciously intend evil. The hunters see their task as a sacred duty. Their story, though, is effectively a frame for the main action; one of the hunters communes with the memories of a dead demon-descended man, searching through those recollections for hints of the whereabouts of others of his kind. The stories of that man, Jona Lord Joni, and of the others of his kind that he knows, provide the meat of the book.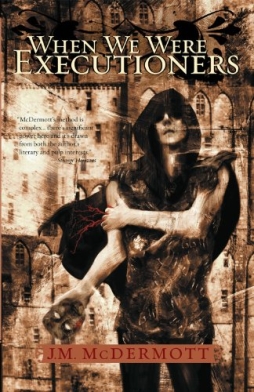 The novel's a braided tale of hunters of different kinds; of dogs and wolves. There is an absolute minimum of description, detail, exposition, and worldbuilding. For the most part, that works, keeping the focus on the characters. I'm not sure it's always effective. There's no way to visualise the city called Dogsland, and while that means readers can build up an image of the place for themselves, sometimes details come along that seem to throw into question what one thought one understood. The setting seems like a low-tech environment through most of the book, then near the end a character casually uses an apparently mass-produced book of matches. Is this society more advanced than it seemed, despite the absence of gunpowder weapons? Or is the book actually employing some kind of post-apocalyptic setting? Or are the matches magic, a part of the fantasy? Or are the matches less modern than they seem, a reference back to medieval Chinese technology? I found it unclear, and while it's not a fatal uncertainty, I also didn't find it helped the novel.
Although this is clearly a character-oriented tale, the story's effective, moving nicely and expanding its scope as it goes. Still, on a practical level, it strains suspension of disbelief that Jona can live for an extended period of time in one place without the demonic corruption becoming obvious. In particular, he's in a dangerous occupation, and it's clear from the text that he's no stranger to violence. It seems unlikely that his blood wouldn't be shed fairly frequently, if only in the form of small cuts or skinned knuckles, and from what we see in the book it seems even a single drop could be enough to give away the presence of a demon.
Still, on the whole the terseness of the book's effective, because McDermott's language is precise and measured. The style's bare but powerful, converying great meaning in a short space. This is a brief novel, but has the weight of a long work. McDermott moves us through the heads of his cast in quick, assured steps, showing us who they are and what they've made of their lives. We see them interact, feel them yearning for things beyond themselves, and it's all more than credible; it's compelling, and natural.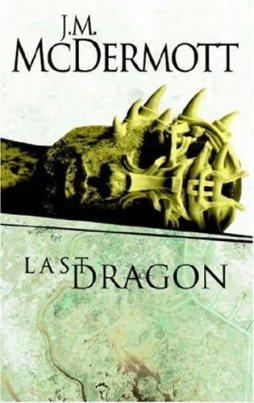 Although apparently dead, Jona Lord Joni drives much of the story of the novel; he has the most freedom of movement of the main characters, a poverty-stricken demon-born aristocrat serving as a corporal in Dogsland's City Guard. He's also secretly an agent of the Night King, the lord of the city's underworld. Jona connects all the disparate parts of the city, from rich estates to poor brothels. At the same time, he remains somehow unaffected by it, untouched by others; as the Biblical echo of his name implies, an outcast, a Jonah — so when he must go to a wizard's house where the door-knocker's carved "like a whale's open jaw," the image is metaphorically right.
McDermott's got a light touch with his allusions, though. Given that he's got characters named Rachel and Salvatore as well as Jona, there's a definite biblical resonance threading its way through the text. And the family name of the wizard Jona visits is Sabachthani, which appears to come from Christ's exclamation on the cross: lama sabachthani, "why have you forsaken me?" But there's nothing precious or overstated about any of this. The lean prose refuses to draw attention to the cleverness of the references, making them all the more effective.
In fact, the biblical echoes play against the narrative, which invites us to sympathise with the demonic characters, and to consider whether they're truly wicked, as well as dangerous. They don't think they are; the society in which they move is convinced otherwise. It seems at times as though there may be something to that — of three demonic characters, two are quite comfortable with violence and theft, while the third refuses to engage with the world around her. But then that refusal is a consequence of the hatred with which the world views these demons. By extension, so perhaps is the violence.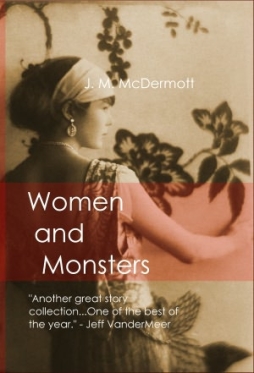 Ultimately, as I read it, the story comes to be about just what the title implies — the process of coming to know another person, of developing empathy for someone beyond one's self. The plot's in service to the theme and the characters; not rudimentary, but not the main element of the book, either. Still, the narrative structure's complex, though unobtrusive, and if the end is somewhat abrupt, that's not unearned. There's an understated climax that maintains the story's focus on character, and a denouement that brings together different strands of the story. In particular, there's a revelation of a hidden identity which is perhaps half-expected, but still powerful. It prompts us to reconsider much of what we've read, and how the characters were really relating to each other.
Never Knew Another is a thoughtful, meditative book. It's literary fantasy that recalls the work of Ursula Le Guin or perhaps Samuel Delaney; McDermott's been compared to A.A. Attanasio, which also seems apt. This book is a powerful handling of a powerful theme, and tremendously impressive.
---
Matthew David Surridge is the author of "The Word of Azrael," from Black Gate 14. His ongoing web serial is The Fell Gard Codices. You can find him on facebook, or follow his Twitter account, Fell_Gard.