Steampunk Spotlight: Cherie Priest's "Tanglefoot" & Clementine
Steampunk Spotlight: Cherie Priest's "Tanglefoot" & Clementine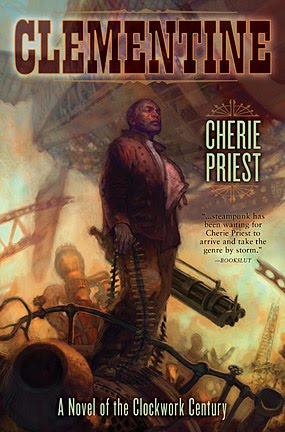 Clementine (Amazon, B&N)
Cherie Priest
Subterranean Press (208 pages, Sept. 2010, $4.99)
"Tanglefoot" (free online)
Cherie Priest
Subterranean Press (Fall 2008, free)
Reviewed by Andrew Zimmerman Jones
Cherie Priest has become one of the biggest names in the steampunk sub-genre, starting mostly with her groundbreaking 2009 book Boneshaker that introduced most readers to "The Clockwork Century," the alternate history 1880's storyline that she created. There are three main features of "The Clockwork Century":
The Civil War has been going on for over 20 years.
There are airships (and other steampunk accoutrements, such as goggles).
There are zombies (or close enough approximations)
Boneshaker focused on features 2 and 3, with the Civil War really just a background note that has little direct bearing on the story. After all, it's set in Seattle, which is far outside the territory where the Civil War is being fought.
Clementine, on the other hand, leaves the zombies behind to focus on the Civil War (and the airships) in far greater detail.
The lack of zombies is a marked departure from Boneshaker … so marked that it was published by an entirely different company – Subterranean Press instead of Tor – as a limited release hardcover and e-book. The hardcover is now very difficult to find (and pricey if you do find it), though the e-books are still readily available. It seems like there may now be a paperback edition as well. (It's available on Barnes & Noble, but doesn't appear to be over at Amazon as of the time of this writing.)
Clementine follows the airship crew from Boneshaker as they head east, chasing their stolen airship (called Clementine). It also introduces Maria Isabella Boyd, an actual Confederate spy during the Civil War, who has retired from the spy life to work for the Pinkertons. Her first mission is to track down the Clementine and capture it for the Union army.
Overall, this is a fun chase book, but it's easy to see why this wasn't picked up by the bigger publisher as a follow-up to Boneshaker. While all of Priest's books read like you're watching an action movie, this one is shorter, so doesn't have room to develop quite as much of a punch as the others. And there are no real supernatural elements of any kind, making it a marked departure from the mood she's establishing in the setting. If you are really a Cherie Priest completist, then this is a good book to pick up and certainly an enjoyable read full of entertaining characters, but hardly a "must have." If you want a Clockwork Century chase book, then I'd recommend Dreadnought (review coming next week).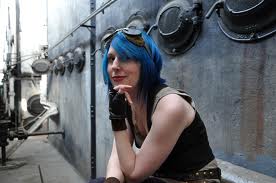 Also outside of the mold (even before the mold was finished) is Priest's 2008 novellette "Tanglefoot," available for free online over at Subterranean Press. This one doesn't have any zombies or airships, but it does have a little clockwork doll who isn't all it seems to be. I really enjoyed this story, largely because it's so far outside the settings and material explored in the other books. "Tanglefoot" shows that there are a lot of different directions for Priest to go with her Clockwork Century, and I for one am interested in seeing some of the themes here explored in future books.
Other Steampunk Spotlight posts:
---
Andrew Zimmerman Jones is a writer of fiction and non-fiction. He has been a finalist in the Writers of the Future contest and received Honorable Mention in the 2011 Writer's Digest Science Fiction/Fantasy Competition. In addition to being a contributing editor to Black Gate magazine, Andrew is the About.com Physics Guide and author of String Theory For Dummies. You can follow his exploits on Facebook, Twitter, and even Google+.