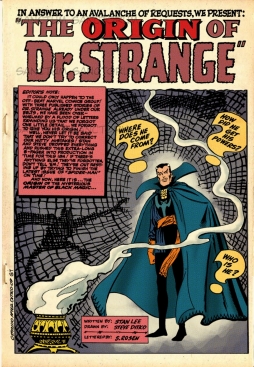 One of my favourite Marvel Comics characters, certainly my favourite of all their big names, is Doctor Strange. Like most established Marvel characters, he's been handled a lot of different ways over the course of time. I'd like to look back, and look closely, at one of the early tales that defined him most clearly — specifically, his origin story.
Doctor Strange first appeared in Strange Tales 110, in which he investigates a man's recurring bad dreams and battles an old enemy, Nightmare, master of the Dream Dimension. Strange is a kind of occult detective, a figure in the tradition of Martin Hessselius or John Silence (or, more closely, Mandrake or Zatara). Unlike them, though, he's more magician than detective. Although we meet him here for the first time, he's clearly an experienced wizard — "Never again shall you thwart me!" claims Nightmare. We don't discover in this five-page story how Strange came to have his powerful magical amulet, or who his mysterious mentor is.
The next month's story gives us a bit more background, introducing another archenemy who has a history with the good doctor — Baron Mordo, a former student of Strange's mentor and master. We get a sense of Strange's power, too, as he has a battle of astral forms with Mordo. The next two issues didn't have a Doctor Strange story, then issue 114 presented another battle with Mordo. It was with the next story, in issue 115, that we finally learned who this man of mystery really was.
---