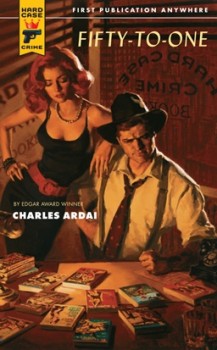 Charles Ardai co-founded the internet company, Juno. That success gave him the opportunity to start his own publishing imprint, Hard Case Crime, which both reprints forgotten pulp novels and also publishes new novels in the genre. The roster of Hard Case Crime authors is beyond impressive: Lawrence Block, Max Allen Collins, Lester Dent, Erle Stanley Gardner, Stephen King, Wade Miller. Richard Stark, Donald Westlake and many more.
Hard Case Crime has found several "lost" books by some big names, including James M. Cain and Gore Vidal. While Erle Stanley Gardner is best known for Perry Mason, he put out 29 books about a mismatched duo of detectives, Bertha Cool and Donald Lam. The Knife Slipped was to have been the second in the series but it was cancelled by the publisher. A week from Tuesday, on December 6, a veritable treasure goes on sale. Hard Case Crime is printing, for the first time ever, that unpublished Cool and Lam novel. I'll be writing ab out Cool and Lam right here, next week. But today, I've got a Q & A with Charles Ardai!
A never before published Cool and Lam novel. Wow! How in the world did you get your publisher hands on that?
Jeffrey Marks, a biographer in the mystery field who has written about Craig Rice and Anthony Boucher among others, was working on a bio of Erle Stanley Gardner when he came across references to an unpublished Cool and Lam novel among Gardner's papers. He brought it to my attention, and my reaction was roughly the same as yours: Wow. With the assistance of Gardner's grandson we got a copy of the typescript from the University of Texas, where Gardner's papers are held, and I read the thing, hoping against hope that it hadn't remained unpublished for 75 years for good reasons. And far from deserving to be unpublished, I found it was easily one of the most enjoyable books in the series!
---