The Money Where the Mouth Is – Derek Writes an Ongoing Webcomic
The Money Where the Mouth Is – Derek Writes an Ongoing Webcomic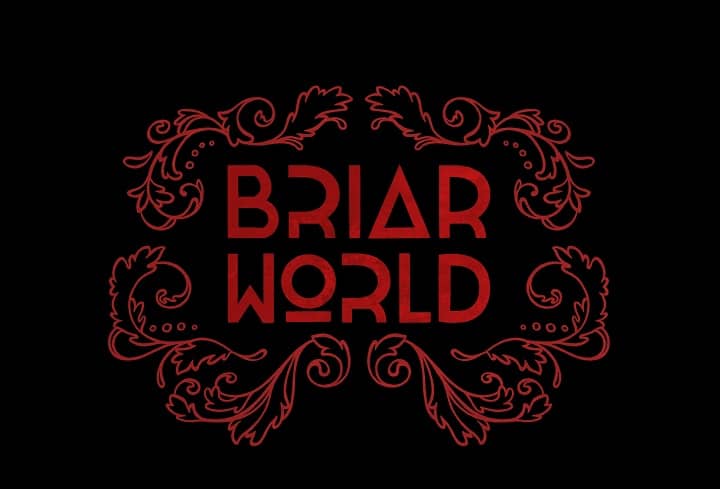 In my four or five years blogging for Black Gate, readers have probably become used to me interviewing comic creators and editors, reviewing new comic books and webcomics, small press and large, as well as revisiting classic comic runs and discovering new podcasts that dig into how the sausage is made.
It was becoming increasingly obvious to me that it was time for me to ante up and join the game rather than sitting on the sidelines. And it is a lot different than writing short stories and novels! But, in the last year, I had two 16-page comic book stories published by Markosia Press in the UK.
Gorillas in the Ring (with artist Wendy Muldon and letterer Ian Sharman) appeared in the anthology FLIP (Dec 2018), and Frankenpuppy (with artist Trevor Markwart) will appear in the anthology FLIP 2 (Jan 2020), although our story is being released digitally as a stand-alone preview to the anthology and is at Comixology now for $1.99.
[Click the images for webtoons-sized versions.]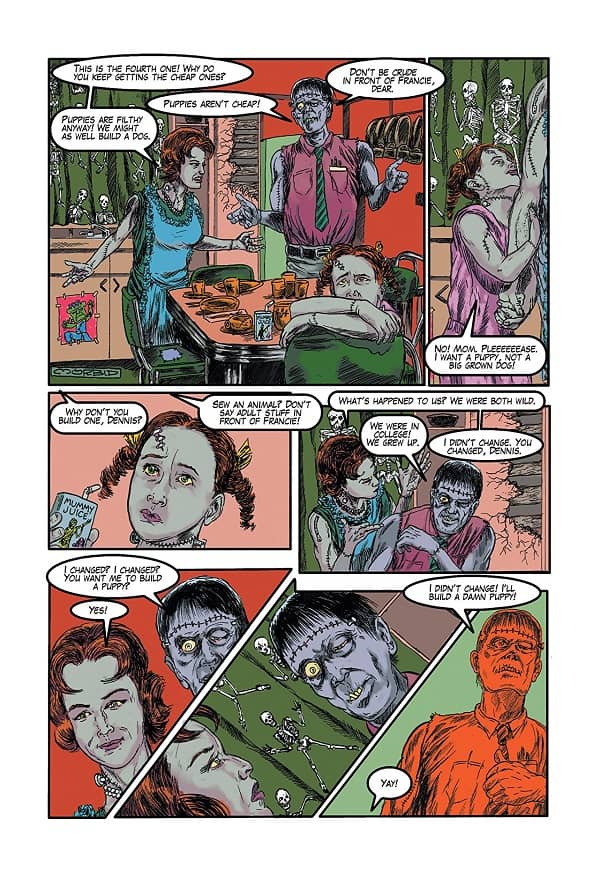 Comics has a long and distinguished tradition of one-off short stories, but like much of the best TV, comics have become primarily a serialized storytelling medium, and I wanted to use all the tools comics has to offer.
So Wendy Muldon and I paired up again to make a webcomic. Webcomics are a huge industry that has solved its distribution problem; many of their best works hit golden age Superman and Captain America numbers. We made Briarworld.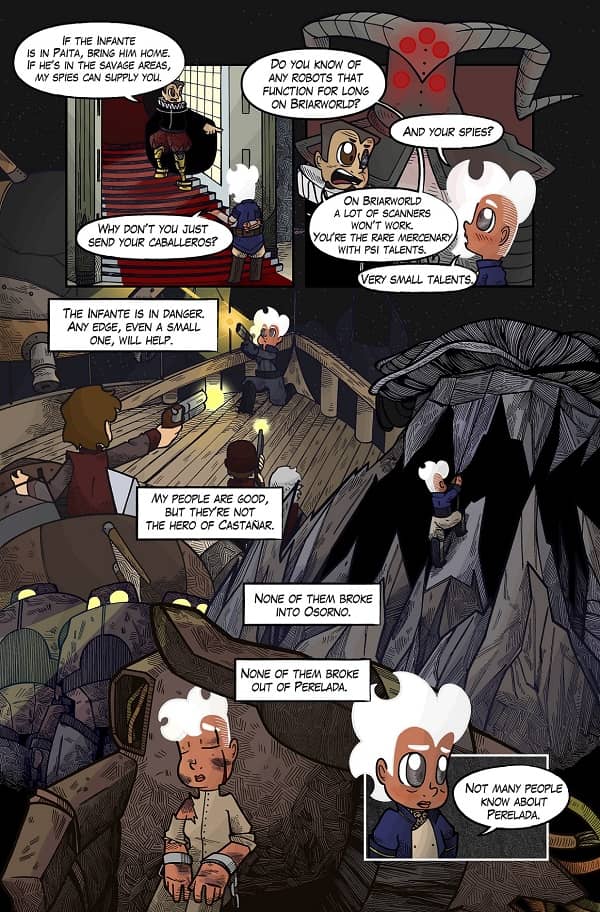 Here's our description:
"Manuela is a far-future jetpack mercenary, hired to rescue the kidnapped prince on Briarworld. But she and her cousin Teresa find trouble, because Briarworld is untamed, filled with strange monsters, and maybe ghosts, and certainly pirates, and robot killers are following, and the pirate has a crush on Manuela, and the prince argues a lot!"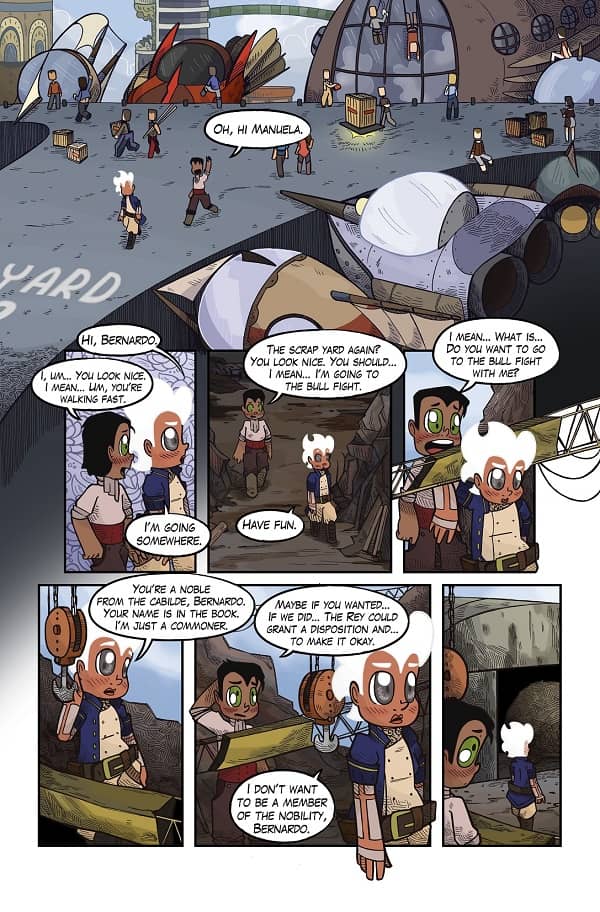 We wanted to tell a Flash Gordon-esque story with more modern sensibilities, perhaps in part for me because the Filmation Flash Gordon cartoon was a big gateway series into classic SF. We want to have monsters, femmes fatale and royalty to rescue and people to go from bad to good and sometimes good to bad.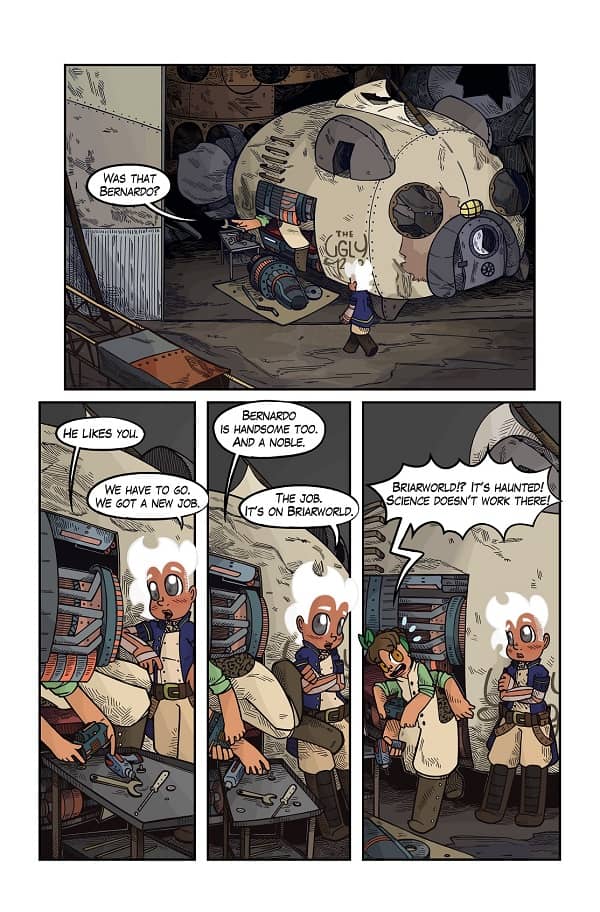 I peppered it with classic SF jokes and references, but the real charm has been Wendy Muldon's artwork. When suggesting this idea to her, I sent her a bunch of retro-future references, including some 1930s Flash Gordon stills, some old over-the-top Amazing Stories covers, and suggested that it would be fun to mix that with 17th and 18th century Spanish aesthetic influences.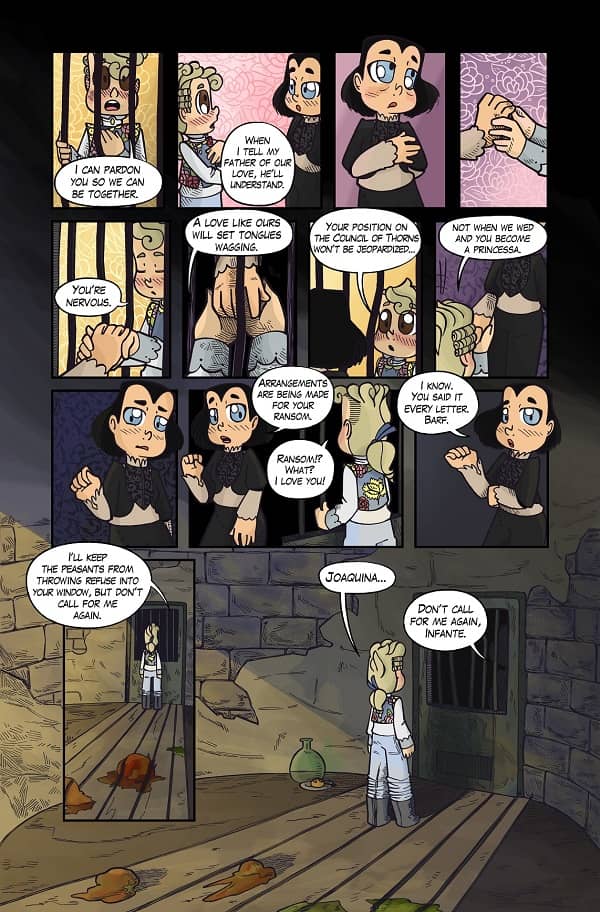 Boom! She took in all of what I'd sent and resynthesized it into something new. Wendy's art and colors and letters are amazing, as is the astonishing level of detail she brings to the pages. And her style fits very well with the hegemonic manga style at Webtoons.com and is also inviting for younger readers.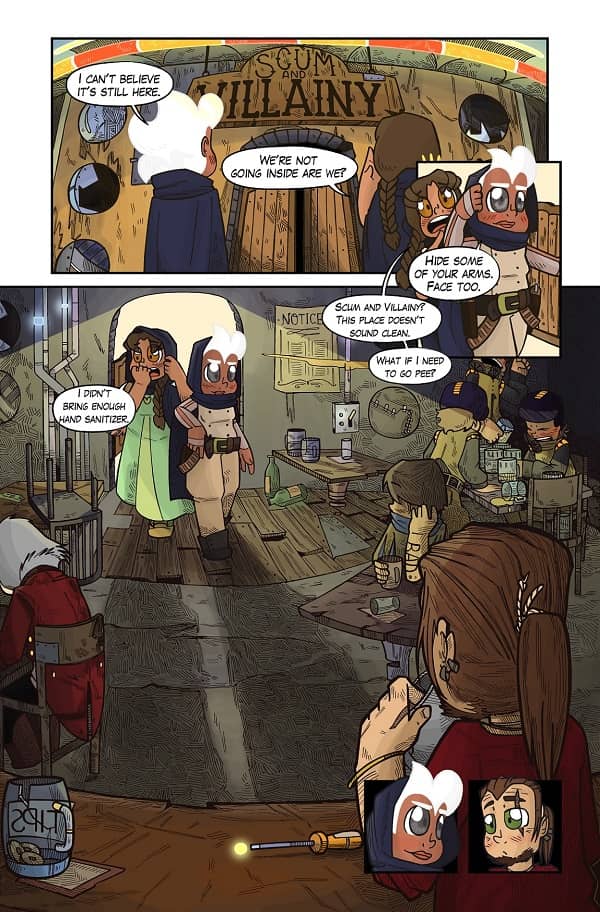 The finished pages I'm showing here are in standard comic format because one day we'd like to collect the pages into a trade paperback or a graphic novel. Webtoons.com is mostly read on phones, so their "pages" are actually long vertical columns that can be up-swiped as you read.
Webcomics are a neat reading experience and I've blogged about various ones before like Girls of the Wild's, Witch Creep Road, and Newman. The webtoons app is easy.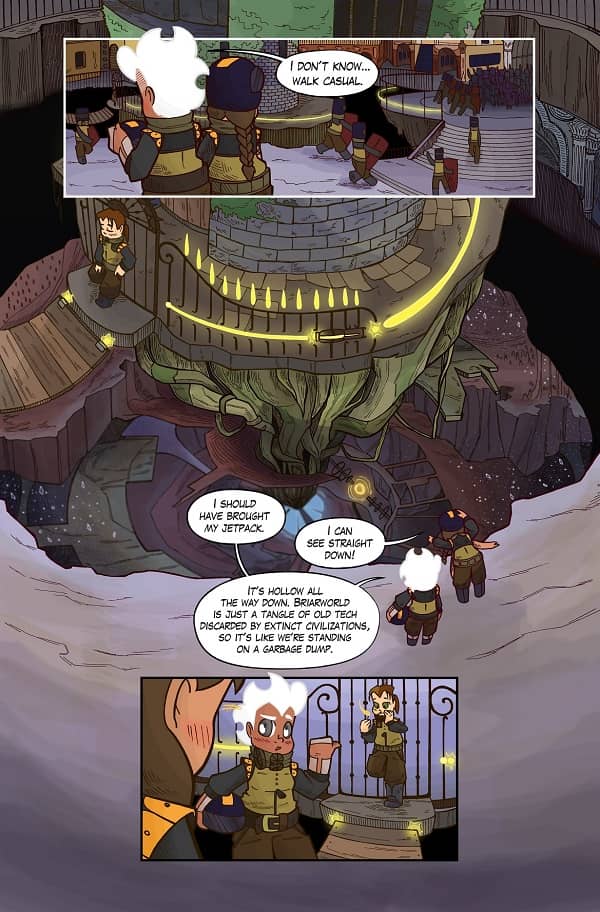 Wendy and I have been having a lot of fun and have been learning a lot on the production and serial story-telling sides. We've been putting out 3 pages every week or every 2 weeks depending on work/study schedules, and have been getting the hang of visually and writingly foreshadowing in a serialized medium with discreet weekly chunks.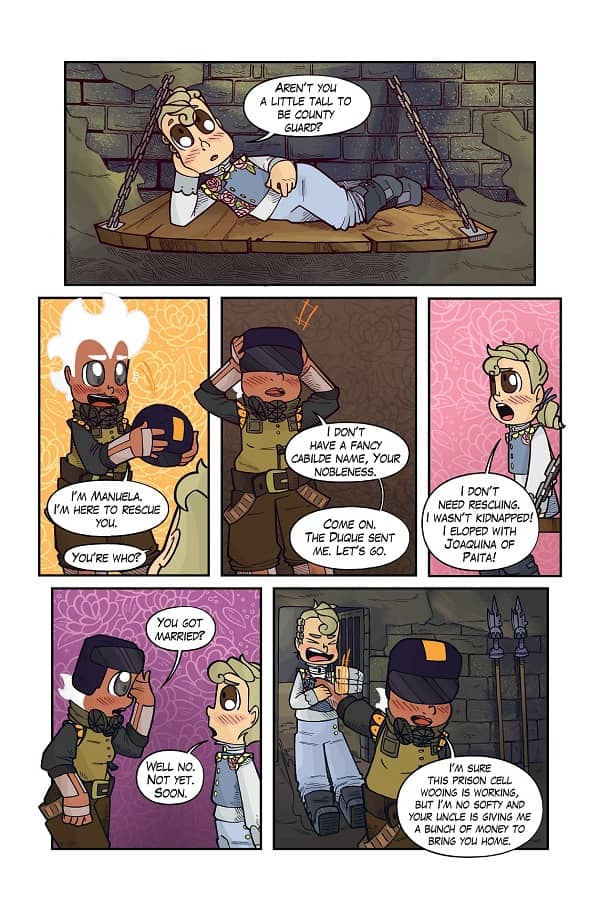 But the most important thing for us is that we're telling a story we want to tell and we're getting laughs as we go (and hopefully the readers are too). I love Manuela the bounty-hunter. Her little cousin Teresa is a scene stealer. The Prince has a lot to grow into, and so far Joaquina the High Sheriff is like the love child of Angelina Jolie and Darth Vader.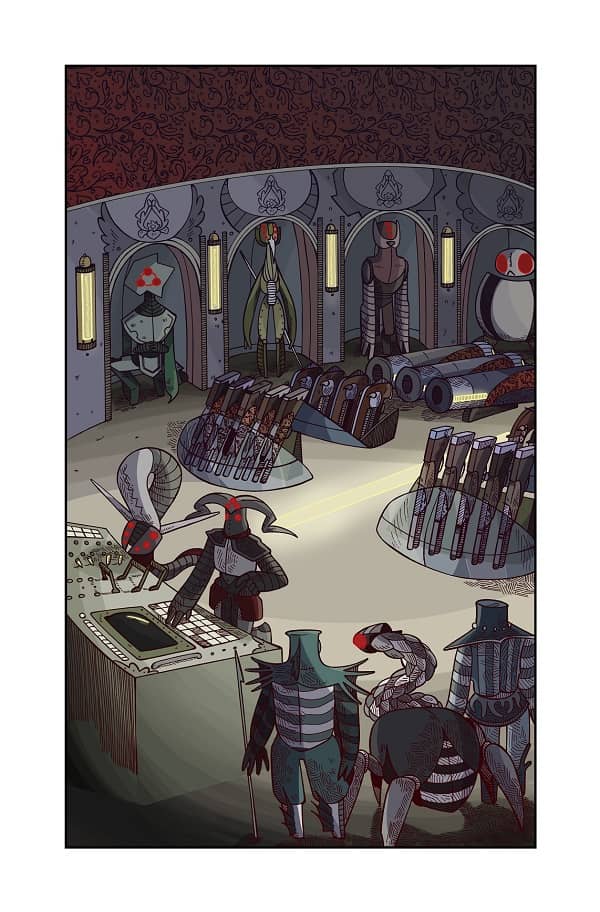 The bad hunters who are following them are just now being revealed, but we can't wait to show more of the Caballeros.
If you're interested in reading Briarworld, or sharing it and Webtoons with a YA reader in your life, you can click here, or download the app and look up "Briarworld."
We update on Tuesdays, so more stuff is always appearing!
---
Derek is writing this from a camp chair in a shady grove of tamaracks in deep woods Quebec. When not camping, he's an Asimov Award-winning short story writer and a Locus and Aurora nominated novelist. His second novel, The Quantum Garden, will be out in October, 2019.