The Golden Age of Science Fiction: "The Migration of Darkness," by Peter Payack
The Golden Age of Science Fiction: "The Migration of Darkness," by Peter Payack
The Rhysling Awards, named for Robert A. Heinlein's poet from The Green Hills of Earth, were established by the Science Fiction Poetry Association in 1978. Both the association and the award were founded by Suzette Haden Elgin. Each year, awards are given for Short Form poetry and Long Form poetry. The first three years of the award resulted in ties, with three poems tying in the first year, and two each tying in the second and third year.
Payack's poem "The Migration of Darkness" appeared in the August 1979 issue of Isaac Asimov's Science Fiction Magazine, edited by George Scithers. The poem postulates that darkness, rather than being the absence of light, is made up of infinitesimal pieces of darkness that breed in dimmer regions, such as the poles, and migrate south each night to cover the world in darkness, only to migrate back to the polar regions, or possible westward, with the coming of night. Pieces of darkness that don't make the migration congregate behind buildings and trees to form shadows, but their lives of, of necessity, short since the light will eventually find them and kill them off.
Payack's metaphor isn't entirely successful, but it is entertaining. The poem has just enough imagery of the tiny pieces of darkness hiding from the killing effects of sunlight to provide them with enough anthropomorphism to arouse the sympathies of the reader for the pieces of darkness which have chosen to remain rather than migrate to safer climes.
However, reading the poem in a period in which nativism and nationalism is on the rise, there is also an insidiousness to the poem which Payack almost certainly did not intend. The pieces of darkness coming inexorably from the north can appear as threatening the areas they are invading, despite Payack's clear depiction of them as simply being themselves and not trying to impinge on anything around them, mostly removing themselves at the appropriate time, or suffering the consequences of making poor decisions.
Payack's poem tied for the Rhysling Award for short poetry with Robert Frazier's poem "Encased in the Amber of Eternity."
---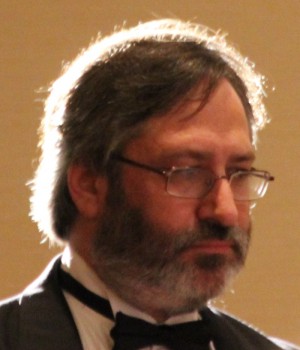 Steven H Silver is a sixteen-time Hugo Award nominee and was the publisher of the Hugo-nominated fanzine Argentus as well as the editor and publisher of ISFiC Press for 8 years. He has also edited books for DAW, NESFA Press, and ZNB. He began publishing short fiction in 2008 and his most recently published story is "Webinar: Web Sites" in The Tangled Web. His most recent anthology, Alternate Peace was published in June. Steven has chaired the first Midwest Construction, Windycon three times, and the SFWA Nebula Conference 6 times, as well as serving as the Event Coordinator for SFWA. He was programming chair for Chicon 2000 and Vice Chair of Chicon 7.