Unbearable Utopias and Harrowing Adventures on Alien Planets: The Best of Jack Williamson
Unbearable Utopias and Harrowing Adventures on Alien Planets: The Best of Jack Williamson
The Best of Jack Williamson (Del Rey, 1978). Cover by Ralph McQuarrie
The Best of Jack Williamson (1978) was, according to my research, the fifteenth installment in Lester Del Rey's Classic Science Fiction Series. Frederik Pohl (1919–2013) provided the introduction (his second in the series, he also did the intro for The Best of C. M. Kornbluth). Jack Williamson (1908–2006), who was still living at the time, does the Afterword. The famous sci-fi artist Ralph McQuarrie (1929–2012) provides his first (and only) cover in the series.
Jack Williamson's writing career spans close to a century! He began professionally writing all the way back in the Hugo Gernsback "scientifiction" pulps, and continued all the way up to and beyond the Star Trek/Star Wars science fiction popularization of the late Twentieth Century. In addition to winning several awards such as the Hugos and Nebulas, the Science Fiction Writers of America named Williamson its second Grand Master in 1976, the first being Robert Heinlein (1907–1988). Also, in 1994 Williamson received a World Fantasy Award for Lifetime Achievement and in 1996 he was part of the inaugural class of inductees into the Science Fiction and Fantasy Hall of Fame. He received various other awards before his death in 2006 at the ripe old age of 98.
Given this long and illustrious career, it beggars no disbelief that the fourteen stories in The Best of Jack Williamson represent over fifty years of his writing. Presented in chronological order, the earliest stories are pure juvenile pulps and progress up through the "New Wave"-ish/Harlan Ellison era to darker themes and more mature stories. Though The Best of Jack Williamson is clearly the work of one science fiction writer, it can also be seen as a sort of panoramic history of science fiction in the Twentieth Century in general. Williamson was diverse but various themes seem to recur.
[Click the images for the Best versions.]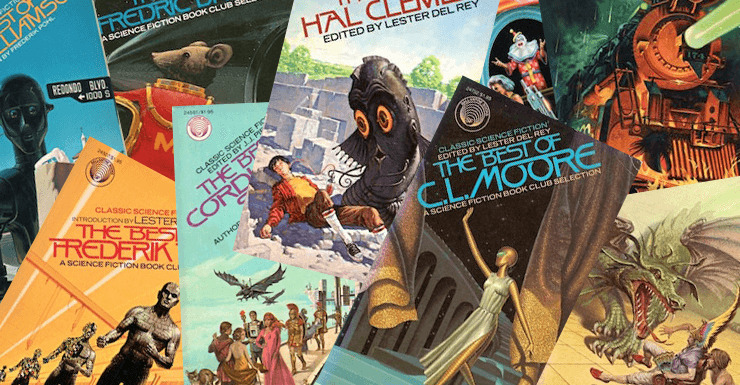 A sample of Del Rey Best of volumes (from James Nicoll's survey at Tor.com)
For example, the Ralph McQuarrie cover showcases a robot, clearly a reference to one of Williamson's most well-known stories, "With Folded Hands." And this theme or trope of robots or androids or manufactured beings comes up in several of Williamson's stories. In "With Folded Hands" and "Jamboree," robotic beings are presented as dystopian warnings of the threats involved in technology. But in other stories, such as "Equalizer," the technology is more utopian, representing the possibilities and hopes that come with progressing science. It's unsurprising that Williamson says in the afterword that he personally viewed technology as neutral, as something capable of good or evil depending on human intentions. His robotic beings and high-tech bear this out in the panoply of his stories.
As with most older science fiction, the "science" can be a bit dated. But I rarely was taken out of Williamson's stories with his technological details. His earlier pulp stories suffer a bit more in this regard but the believability of the technology within most of his stories was very plausible.
Williamson also played with darker themes and endings, which explains his 1998 Bram Stoker Award for Lifetime Achievement from the Horror Writers Association, and his 2004 election to Grand Master by the World Horror Convention. Though there is little in The Best of Jack Williamson that really counts as horror, in my humble opinion, Williamson could sometimes strike a very shocking theme or dark ending.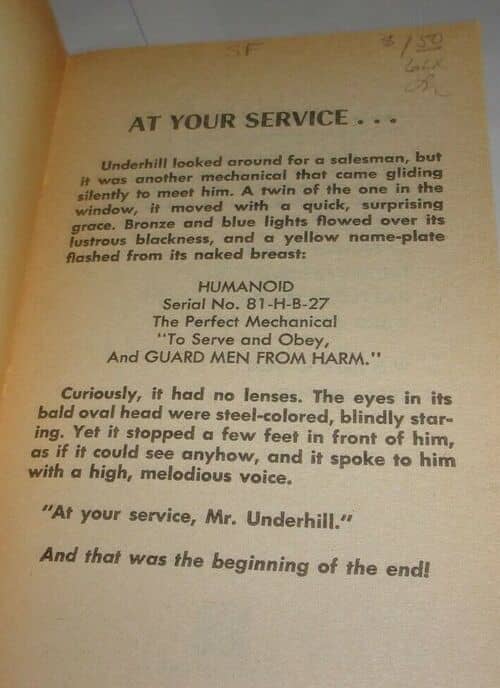 Inside cover copy, teasing "With Folded Hands"
As I mentioned, "With Folded Hands" is one of Williamson's most reprinted and most well-known stories. Not giving too much away, it's basically about how the invention of a new line of robots ends up turning life into a true utopia, but the utopia ends up being unbearable — a fairly standard story line in a long sci-fi tradition. The main characters in the story seek to stop these robots. Here's one spoiler: they fail to do so, though the story feels like it's going to have a happy and heroic ending. Here is the last paragraph:
The car turned off the shining avenue, taking him back to the quiet splendor of his home. His futile hands clenched and relaxed again, folded on his knees. There was nothing left to do. (p. 206)
What a bummer ending! Yet, as with the best of horror or absurdist or existentialist stories, it really sticks with you long after you finish reading.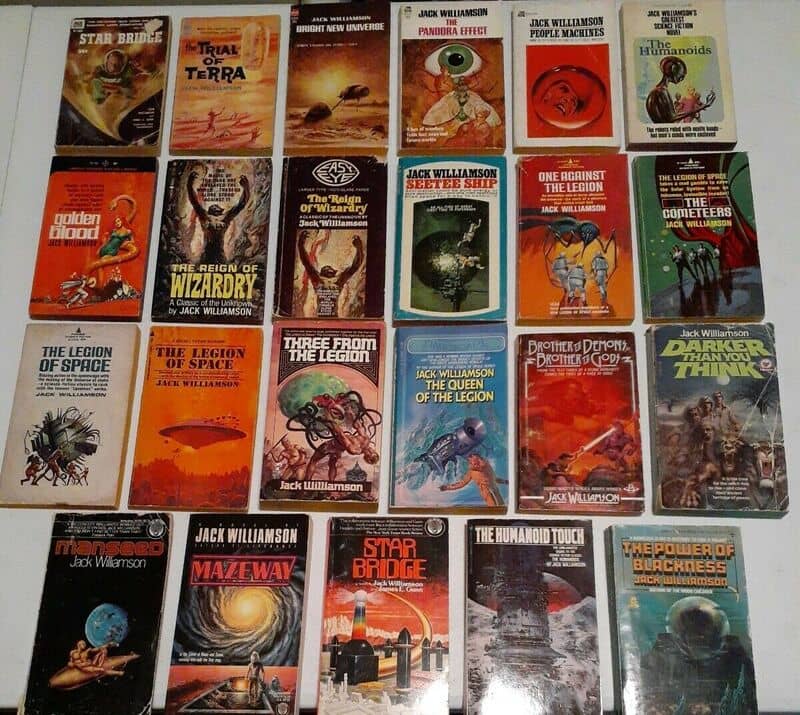 An assortment of Jack Williamson's SF and fantasy paperbacks
Several other Williamson stories fit this vein. "Jamboree" is like a Logan's Run with children. Some of the details are quite disturbing. The story "The Happiest Creature" ends with a suicide. And "The Cold Green Eyes," though having a sort of satisfaction of comeuppance for one hateful character, also ends rather grimly.
These comments might make you think that Jack Williamson was a fairly morose writer. But that would be a premature conclusion. Most of the stories in The Best of Jack Williamson lean more towards classic science fiction with adventure and optimism about the future. "The Highest Dive" is a harrowing exploration adventure on a new planet with a very upbeat ending. "Operation Gravity" is hard-core science fiction, with accurate and clear details about things like parabolic orbits, the mass and gravity of planets and stars, ending with a successful scientific experiment.
The Best of Jack Williamson makes clear why this author's career successfully spanned so many decades. Though I personally had never heard of Williamson before, I definitely enjoyed the variety of stories and I recommend it to those who enjoy classic science fiction.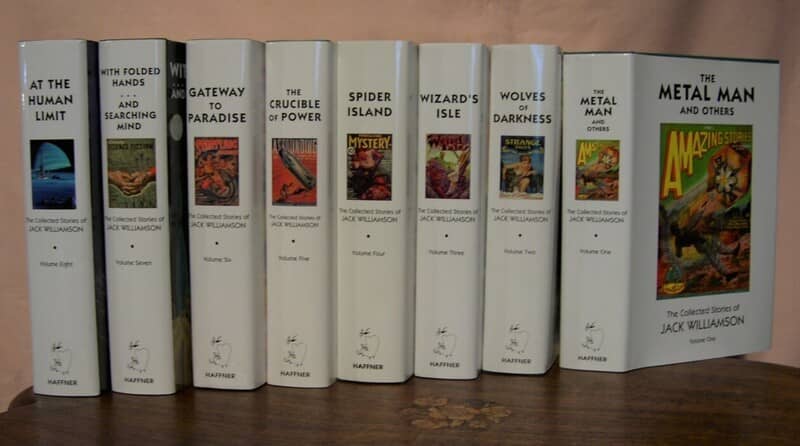 The complete Collected Stories of Jack Williamson (eight volumes) from Haffner Press
Here's the complete table of contents.
"Jack Williamson: The Pathfinder" by Frederik Pohl
"The Metal Man" (Amazing Stories, Dec 1928)
"Dead Star Station" (Astounding Stories, Nov 1933)
"Nonstop to Mars" (Argosy, Feb 1939)
"The Crucible of Power" (Astounding Stories, Feb 1939)
"Breakdown" (Astounding Science Fiction, Jan 1942)
"With Folded Hands" (Astounding Science Fiction, July 1947)
"The Equalizer" (Astounding Science Fiction, March 1947)
"The Peddler's Nose" (Astounding Science Fiction, April 1951)
"The Happiest Creature" (Star Science Fiction Stories No. 2, 1953)
"The Cold Green Eye" (Fantastic, March-April 1953)
"Operation: Gravity" (Science Fiction Plus, Oct 1953)
"Guinevere for Everybody" (Star Science Fiction Stories No. 3, 1954)
"Jamboree" (Galaxy, Dec 1969)
"The Highest Dive" (Science Fiction Monthly, Volume 3, No. 1, 1976)
Afterword, by Jack Williamson
The Best of Jack Williamson was published in June 1978 by Del Rey Books. It is 386 pages in paperback, originally priced at $1.95. It is out of print. There is no digital edition.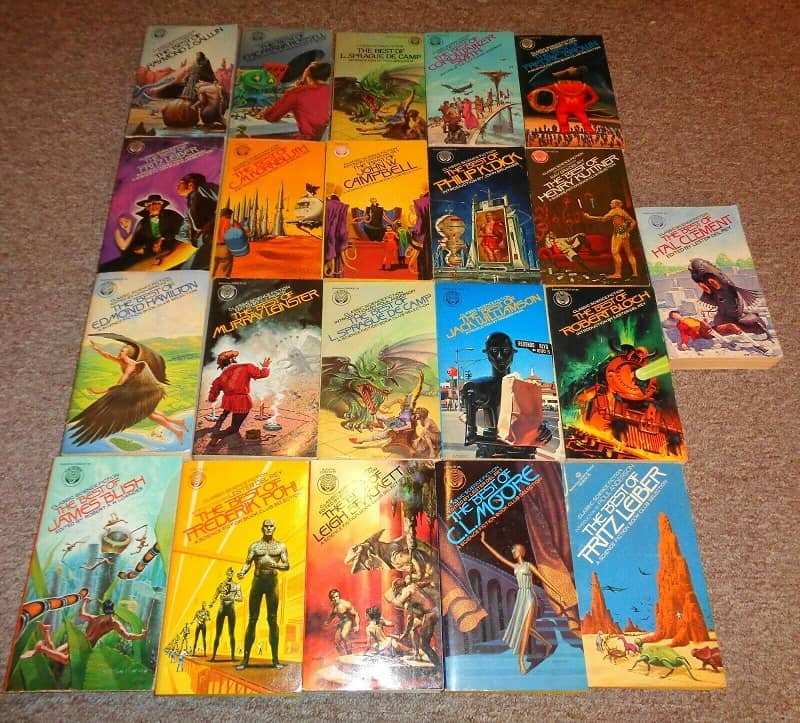 20 volumes of the Ballantine Classics of Science Fiction (missing Weinbaum, Del Rey, and Brunner)
Our previous coverage of the Classics of Science Fiction line includes (in order of publication):
See all of our recent Vintage Treasures here.