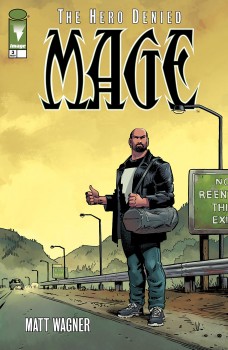 And so the story starts moving, just as the reviews and Internet buzz for this series begins to die down. Seriously, I've noticed how promotion for comic books tends to really ramp up with issue 1, but fades almost immediately afterward, as if no one might be tempted to pick up issue 3 if they hadn't already read issues 1 and 2. Generally, by the time the last issue of a series shows up, the attitude among a lot of comic fans is "Oh, are they still publishing that thing?"
So you probably didn't hear that issue #3 of The Hero Denied came out on Wednesday, but it did and it was good. Of course, some readers have probably been put off by the slow pacing of this story. For example, the first four pages are just Kevin talking to his son, Hugo, about the nature of magic while they walk around a car and then get inside it. And it turns out that my earlier theory was correct and these attacks are taking place in a parallel world just beside the "real world." And while Kevin insists that his abilities aren't hereditary, the fact that Hugo is able to slip into this parallel world would suggest otherwise.
The next six pages concern two Gracklethorn sisters, Aleksi and Sasha, visiting a mission in search of the Fisher King. As established in the very first Mage series, the Fisher King can assume any shape, but that shape will always appear crippled. I get that this is supposed to show how ruthlessly they're pursuing their quarry, but it still seemed a bit implausible that these creatures were able to murder two people in a mission in the noisiest, sloppiest manner possible without anyone else noticing. On the other hand, Matt Wagner does a nice understated job of demonstrating Sasha's powers of persuasion.
---