Ghosts, Strange Science, and Trains That Vanish: The Tales of Arthur Conan Doyle
Ghosts, Strange Science, and Trains That Vanish: The Tales of Arthur Conan Doyle
We bow to no one in our appreciation of Arthur Conan Doyle here at Black Gate. Bob Byrne's long-running Monday column The Public Life of Sherlock Holmes explored all facets of the career of his most famous creation, and over the years William Patrick Maynard, Mark Rigney, Ryan Harvey and other folks have written here about Doyle's work and its many adaptations.
But Doyle made many contributions to the fantasy, detective and horror genres during his long career, and over the decades his work has been reprinted in numerous anthologies like Horrors in Hiding (1973), Famous Fantastic Mysteries (1991), Ancient Egyptian Supernatural Tales (2016), and many others. From 2014-2015 British publisher Alma Classics gathered dozens of his tales into four collections, all of which are still available, and all of which are worth tracking down.
[Click for bigger images.]
They are:
Tales of Twilight and the Unseen (248 pages, May 1, 2014) — stories of ghosts and the occult, first published in 1922
Tales of Terror and Mystery (224 pages, October 15, 2014) — tales of mysterious jungles in the sky, an enigmatic Brazilian cat, and a vanishing train
Tales of Long Ago (186 pages, April 15, 2015) — stories of Ancient Rome, Carthage, and Mecca
Tales of Adventures and Medical Life (288 pages, June 15, 2015) — tales of escapades in Egypt, London surgeons and country doctors
All four were priced at £6.99, or £0.99 for the digital editions.
Serious Doyle fans may also want to check out the three volumes of The Collected Supernatural & Weird Fiction of Sir Arthur Conan Doyle, in Leonar's excellent Supernatural Fiction Series.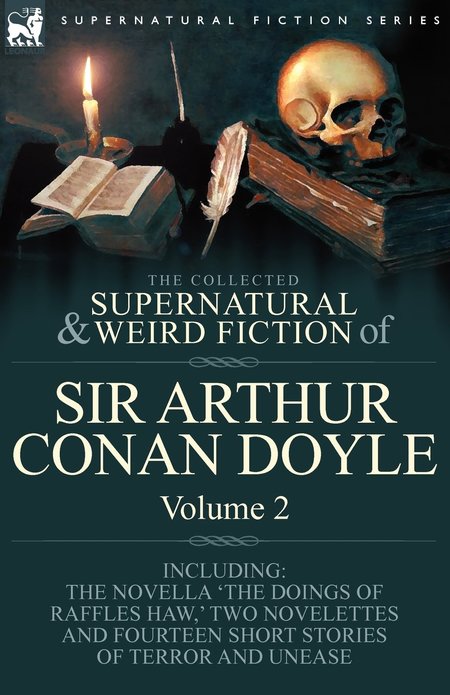 Our previous coverage of Arthur Conan Doyle includes:
The Camera Can Lie: FairyTale: A True Story by Mark Rigney
Professor Challenger: New Worlds, Lost Places, edited by J.R. Campbell and Charles Prepolec
The Lost World: A Classic Sixties SF Blockbuster by Ryan Harvey
See all our recent Vintage Treasures here.