Julian May, July 10, 1931 — October 17, 2017
Julian May, July 10, 1931 — October 17, 2017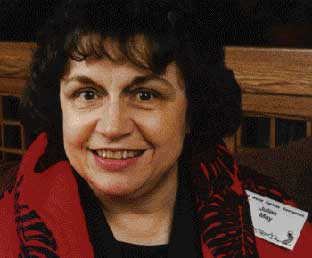 Julian May, fan and bestselling science fiction writer, died this week at her home in Bellevue, Washington.
Julian May was active in US fandom in the 40s and early 50. She published her first story, "Dune Roller," in the December 1951 Astounding; it was filmed as The Cremators in 1972. She was the first woman to chair a Worldcon, with the Tenth World Science Fiction Convention in Chicago in 1952. The next year she married T.E. Dikty, co-editor (with Everett F. Bleiler) of The Best Science Fiction Stories, the first Year's Best SF anthology. Over the next few decades she wrote 250 books, chiefly non-fiction books for young readers and adults, including A Gazeteer of the Hyborian World of Conan (1977, under the name Lee N Falconer).
In 1976 May began attending SF conventions again, starting with Westercon 29 in Los Angeles. She wore an elaborate diamond-encrusted space suit to the costume party, and started sketching ideas for who might actually wear such a suit. In 1978 she began writing what became the Saga of Pliocene Exile, the tale of a group of refugees from the twenty-second century who flee six million years into Earth's past, only to discover two alien species in deadly conflict with humans who've already arrived.
May demonstrated an immediate talent for ambitious SF series, and turned that 4-volume saga into essentially into an extensive prelude for Galactic Milieu sequence: Intervention (1987) Jack the Bodiless (1992), Diamond Mask (1994) and Magnificat (1996). Her other work includes three trilogies: Trillium (written with Andre Norton and Marion Zimmer Bradley, published 1990-97), The Rampart Worlds (1998-2001), and Boreal Moon (2003-06). The Science Fiction Encyclopedia calls her work "at times reminiscent of the Planetary-Romance Baroque of Roger Zelazny."
May was inducted into the First Fandom Hall of Fame at the 73rd World Science Fiction Convention in 2015. She died on October 17, 2017. She was 86 years old.