The Top 50 Black Gate Posts in September
The Top 50 Black Gate Posts in September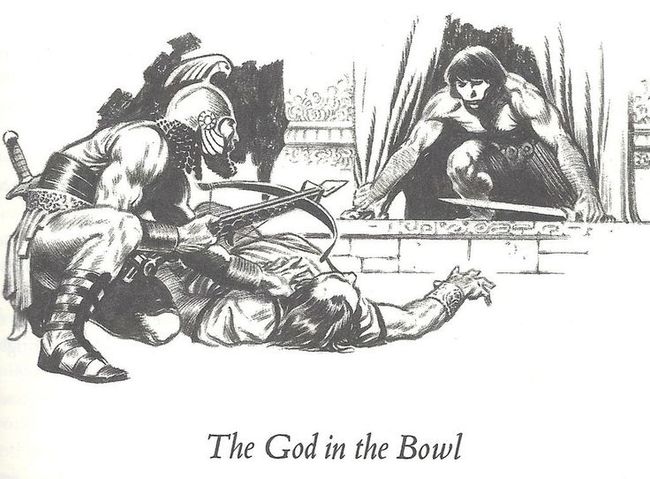 The top articles at Black Gate in July and August were both features on Conan, and last month Bob Byrne managed to nab the top slot with his look at a strange mash-up of police procedural and sword & sorcery, the Conan tale "The God in the Bowl." Conan was created by Robert E. Howard in the pages of Weird Tales in 1932; 85 years later, he's still the most popular character among our readers. That's durability.
The second most popular article at Back Gate in September wasn't about Conan, but it did feature a sinister cosmic entity also created in Weird Tales, this time in H.P. Lovecraft 1928 story "The Call of Cthulhu" — our report on the latest Call of Cthulhu solo module, Alone Against the Flames. At #3 was Elizabeth Crowen's interview with popular cosplay photographer Bruce Heinsius. Fletcher Vredenburgh placed two articles in the Top Ten last month; the first was his review of Roger Zelazny's 1983 novel Dilvish, the Damned, which placed at #4. Rounding out the Top Five was an article on famous book hoarders, "What do George Lucas, Michael Jackson, and Harry Houdini Have in Common?"
Our summary of the top BG articles in August came in at #6, followed by Ryan Harvey's fond look back at Tobe Hooper's best film, the "bizarre nude space vampire epic" Lifeforce. M Harold Page's opening entry in his 3-part Starfinder review, "OMG! All Your Trope Are Belong To Us," rocketed all the way to #8. The ninth most popular post last month was Fletcher's review of Paul S. Kemp S&S novel The Hammer and the Blade. And closing out the Top Ten was our sneak peek at Bean's new Poul Anderson collection, The Complete Psychotechnic League, Volume 1.
The complete list of Top Articles for September follows. Below that, I've also broken out the most popular overall articles, online fiction, and blog categories for the month.
The Top 50 Black Gate posts in September were:
There were plenty of older articles popular last month as well. The 25 most popular blog posts written before September were:
The Top Black Gate Online Fiction features were:
The top categories last month were:
The Top 50 Black Gate blog posts in August are here, and you can see all 81 posts we made in the month of September here.