Life Beyond Us Kickstarter closes May 12!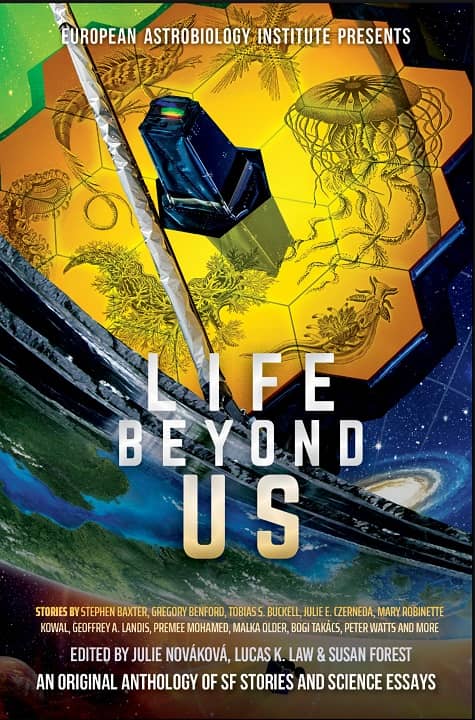 Hey there, Black Gate people! Breaking from my usual pattern of reviews and interviews to let you know about an awesome anthology being Kickstarted right now: Life Beyond Us: An Original Anthology of SF Stories and Science Essays. Award-winning Canadian publisher Laksa Media has partnered with the European Astrobiology Institute (EAI) and the European Science Foundation to bring this to life, and they are so close to being funded. The Kickstarter closes May 12th, so there's only a few days left to get in on this project and help it succeed!
Editors Julie Nováková, Susan Forest and Lucas K. Law are at the helm of this one. The ToC for this anthology combines authors and essayists from a variety of scientific fields, and people at the top of the science fiction game: Eugen Bacon, Stephen Baxter, Gregory Benford, Tobias S. Buckell, Eric Choi, Julie E. Czerneda, Tessa Fisher, Simone Heller, Valentin Ivanov, Mary Robinette Kowal, Geoffrey A. Landis, Rich Larson, Lucie Lukačovičová, Premee Mohamed, G. David Nordley, Malka Older, Deji Bryce Olukotun, Tomáš Petrásek, Arula Ratnakar, DA Xiaolin Spires, Bogi Takács, and Peter Watts.
It feels like the past year has seen a ton of excellent anthologies on Kickstarter, and not all of them have made it, unfortunately. Besides the ToC, I love the motivation behind the anthology and the backer rewards being offered. If you can, please consider backing the Kickstarter or signal boosting it to your friends!
Here's some more info, direct from the editors.