In 500 Words or Less: Alias Space and Other Stories by Kelly Robson
In 500 Words or Less: Alias Space and Other Stories by Kelly Robson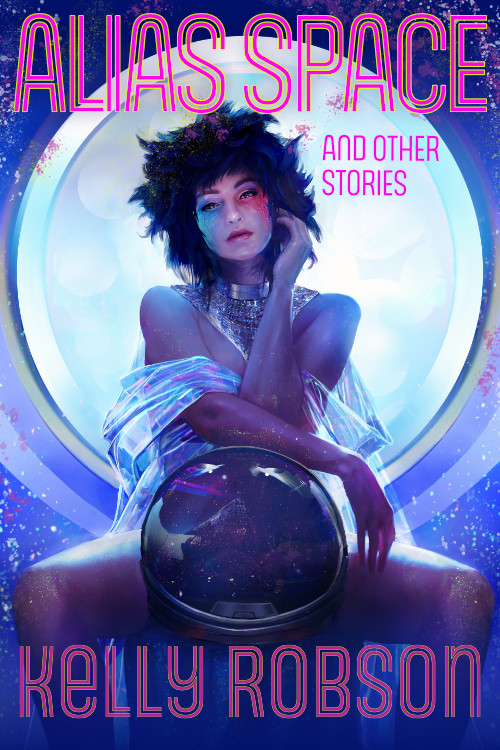 Alias Space and Other Stories
By Kelly Robson
Subterranean Press (400 pages, $40 hardcover/$4.99 eBook, April 30, 2021)
Cover by Lauren Saint-Onge
If there's one thing that characterizes Kelly Robson's stories, I think it's the love and care that you can see in each one. It's hard to describe in words, but it's like I can see how she's built each world around her characters in a way that either supports or challenges them, oftentimes both. Take Zhang Lei in "A Study in Oils," surrounded by strangers he can't trust but who are best placed to understand the pain he's running from and his need to hide from an interconnected world, and to support him when he's finally free. Or creche manager Jules, who has to face her past on Luna, no matter how much she wants to forget it, because of the choices everyone else makes around her in "Intervention." Even fleeing a dragon in "La Vitesse" forces mother-daughter duo Bea and Rosie to understand each other better. Plus dragons!
Often this love and care leads to stories that are inherently hopeful, like those mentioned above. This even includes "So You Want to be a Honeypot," where six Soviet shirk their duties in order support each other when one of them is threatened, since they're all each other has. Same thing with the members of Alias Space and the surrounding burlesque community in the title story for this collection. And as Kelly herself says in the notes about eco-fiction story "Two Watersheds": "If the people most intimate with a problem can find reasons to hope, there's no excuse for the rest of us to give up." Look no further than Kelly Robson for hopeful fiction that's still steeped in conflict.
That said, the care that goes into her stories doesn't mean they're all optimistic. "What Gentle Women Dare" certainly isn't, exploring the consequences of violence against women through the eyes of an 18th-century sex worker. But who else to ask how to solve this endemic problem? Somehow "The Three Resurrections of Jessica Churchill" is even more raw, and honestly the most hard-to-read thing I've seen from Kelly, made even more impactful by her notes at the end. A story about parasitic aliens that resurrect you and reknit your wounds could be fun or farcical, but Kelly makes the aliens suspicious and their host's challenging life even darker for being their new home.
Every writer, to some degree, pours heart and soul into their work. No one does this quite like Kelly Robson. Alias Space and Other Stories allows you to see that in practice in so many ways, making it as special to read as I'm sure it was for her to put together.
---
An Ottawa teacher by day, Brandon has been published in On Spec, Pulp Literature, THIS Magazine, and elsewhere. He just launched a Twitter account for ROARS AND RUST, an original D&D setting being developed with authors Marie Bilodeau and Evan May. Find it here! You can follow Brandon at brandoncrilly.wordpress.com or on Twitter: @B_Crilly.