Future Treasures: The Alien Stars And Other Novellas by Tim Pratt
Future Treasures: The Alien Stars And Other Novellas by Tim Pratt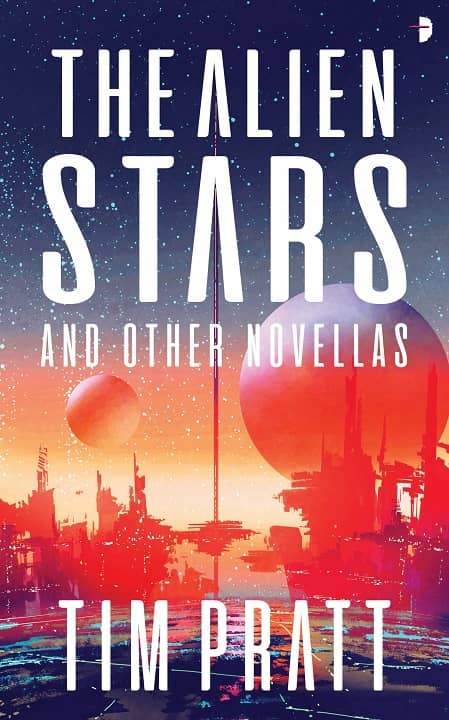 Tim Pratt has been nominated for the Nebula, World Fantasy, Sturgeon, Stoker, and Mythopoeic Awards, and he won the Hugo Award for his short story "Impossible Dreams." His latest — and most ambitious — work is the Axiom space opera trilogy, which Tor.com called "a witty, heartfelt sci-fi romp." The first volume, The Wrong Stars, was nominated for the Philip K. Dick Award; we covered the whole series back in 2019.
His latest is a collection of three previously unpublished novellas set in the Axiom universe, and they sound terrific. The Alien Stars and Other Novellas was originally funded by a successful Kickstarter campaign, but the end result was successful enough that Angry Robot picked it up for reissue in paperback. Locus calls the collection a "Compelling, fun, explosive work of space opera pulp. It's delightful," and Publishers Weekly said,
With these three exciting novellas, Pratt explores and expands the lively pulp world of his Axiom space opera trilogy… "The Augmented Stars" finds cyborg engineer Ashok captaining his own wormhole generator–equipped vessel. He and his crew contend with ancient alien artifacts from Axiom facilities and cosplaying space pirates… In the epistolary title story, alien Lantern risks her life to prevent her own treacherous people from destroying humanity and save the human woman she loves… each of these tales delivers the buoyant humor and adventure of the Axiom novels.
The book arrives in paperback next week. Here's the publisher's description.
[Click the images for novella-sized versions.]
In this collection of previously unpublished novellas, Hugo Award-winner Tim Pratt returns to the acclaimed sci-fi universe of his Axiom trilogy.

Each of these three stories takes fans and new readers alike deeper into the rich world of the Axiom than ever before, revisiting the crewmembers of the White Raven as they strike out on new and enthralling adventures.

Delilah Mears joins the crew of the Golden Spider, as its cyborg captain Ashok leads them deep into space to investigate a mysterious cosmic anomaly, leading to an encounter with a truly unusual band of space pirates; AI (and Trans-Neptunian Alliance President) Shall receives a strange summons from a past version of himself to help defeat an existential threat to the entire universe; And intrepid alien truth-teller Lantern journeys home to confront the monsters of her past, and the deepest secrets of her heart (or the closest thing she has in her circulatory system to a heart).
The Alien Stars and Other Novellas will be published by Angry Robot on April 27, 2021. It is 200 pages, priced at $12.99 in paperback and $6.99 in digital formats. Get all the details at the Angry Robot website.
See all our recent coverage of the best upcoming SF and fantasy here.