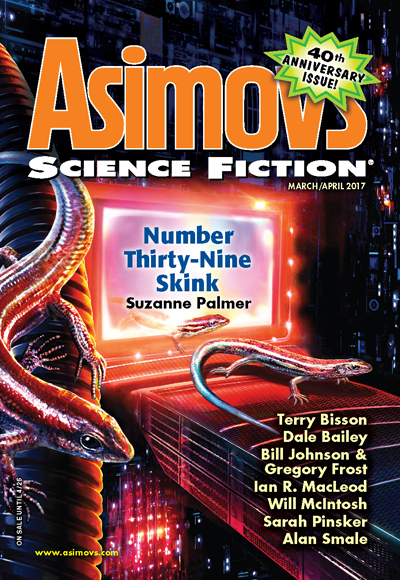 Asimov's continues its 40th anniversary celebration with its March/April issue. Thirteen stories, half a dozen poems, and plenty of little asides about what the magazine means to the various contributors.
It begins with "Soulmates.com" by Will McIntosh, a story about love in the digital age which reads like it was meant to be charming, but came off rather creepy. Both characters behave like vengeful stalkers at different points in the story and it all got tied up far too neatly, with the one of the characters essentially "hacking" all of the problems away.
Next up is "Number Thirty-Nine Skink" by Suzanne Palmer. The story concerns a robot designed to colonize an alien world by producing perfect duplicates of various Earth lifeforms and dispersing them across the planet's surface. The robot continues with this project, despite most of the colonization crew leaving and the only human who stayed behind dying. On top of the robot coping with the concept of loneliness, there are also some native lifeforms that object to a robot that mass-produces invasive species. This one's a bit tricky to follow at first as the reader figures out what's going on. The cover art by Tomislav Tikulin depicts a scene from this story.
Next up is "Three Can Keep a Secret …" by Bill John and Gregory Frost. Strip out the mimic suits and space travel and what you've got is a basic caper story in which a professional assassin is hired by two separate clients to kill one another. Like the best capers, the solution is right there in plain sight, but not obvious until the story's end.
"The Ones Who Know Where They Are Going" by Sarah Pinsker is less of a science fiction piece and more of a thought experiment on the virtues of sacrifice.
---